I like to talk a lot about gut health. All my recipes are centered around being very friendly to the gut, because like Hippocrates said thousands of years ago, "All disease begins in the gut." This protein gummy recipe is for a healthy gummy that will help to heal your gut and create a better environment for your health to flourish.
Why does the gut matter?
Gut health is at an all-time low. 
It's due to aspects of our modern lifestyle that compromise the health of our gut. These will damage the thin lining of the gut, causing small holes there. 
When there are holes in your gut, food particles, bacteria, and viruses can escape into the bloodstream, flooding the body. 
What does that cause? 
 Inflammation. 
And inflammation is what all medical professionals know is the root of disease! 
That's why gut health should matter to EVERYONE -- not just people who are having serious signs of a damaged gut. Because someone can have it and not even know it!
So that's really the driver behind this gut-healing gummy recipe.
Ready for the ingredient list?
Ingredients For My Protein Gummy Recipe
Here's what you'll need. The list is short and sweet!
Orange juice
Coconut cream
Gelatin
Maple syrup
Vanilla extract
As you can see, the gummy will be sweetened from a few different sources: the orange juice. The coconut cream. And don't forget the maple syrup! You could certainly switch from orange juice to another juice, if that's your preference.
As to the vanilla extract, I'd warn you to be careful when purchasing. There are way too many vanilla extracts out there that contain alcohol. And alcohol is harmful to the gut, so that's the opposite of what we want to be doing! I'll go into more details in some common questions below.
For now, let's go through the process of making these protein gummies.
The Step-By-Step Process
Gather your ingredients according to the list above. I know a lot of people like to add and subtract as they go -- if that's you, feel free! Do know, however, that certain things may affect the ability of your protein gummies to set properly. You may want to stick strictly to the recipe the first time around, then adapt and make it your own in subsequent tries.
First, if you're using freshly-squeezed orange juice (and it's always going to be better to get your juice straight from the source than from a carton -- I always feel that man will never replicate what God has already made for us!), then it's time to juice those oranges first.
Then, get out a medium pot. Put the burner on low heat and add your orange juice and coconut cream to the pot, stirring it up.
With the burner still on low, sprinkle the gelatin over the juice and coconut cream mixture. You're going to want to let the gelatin bloom, which takes about five minutes.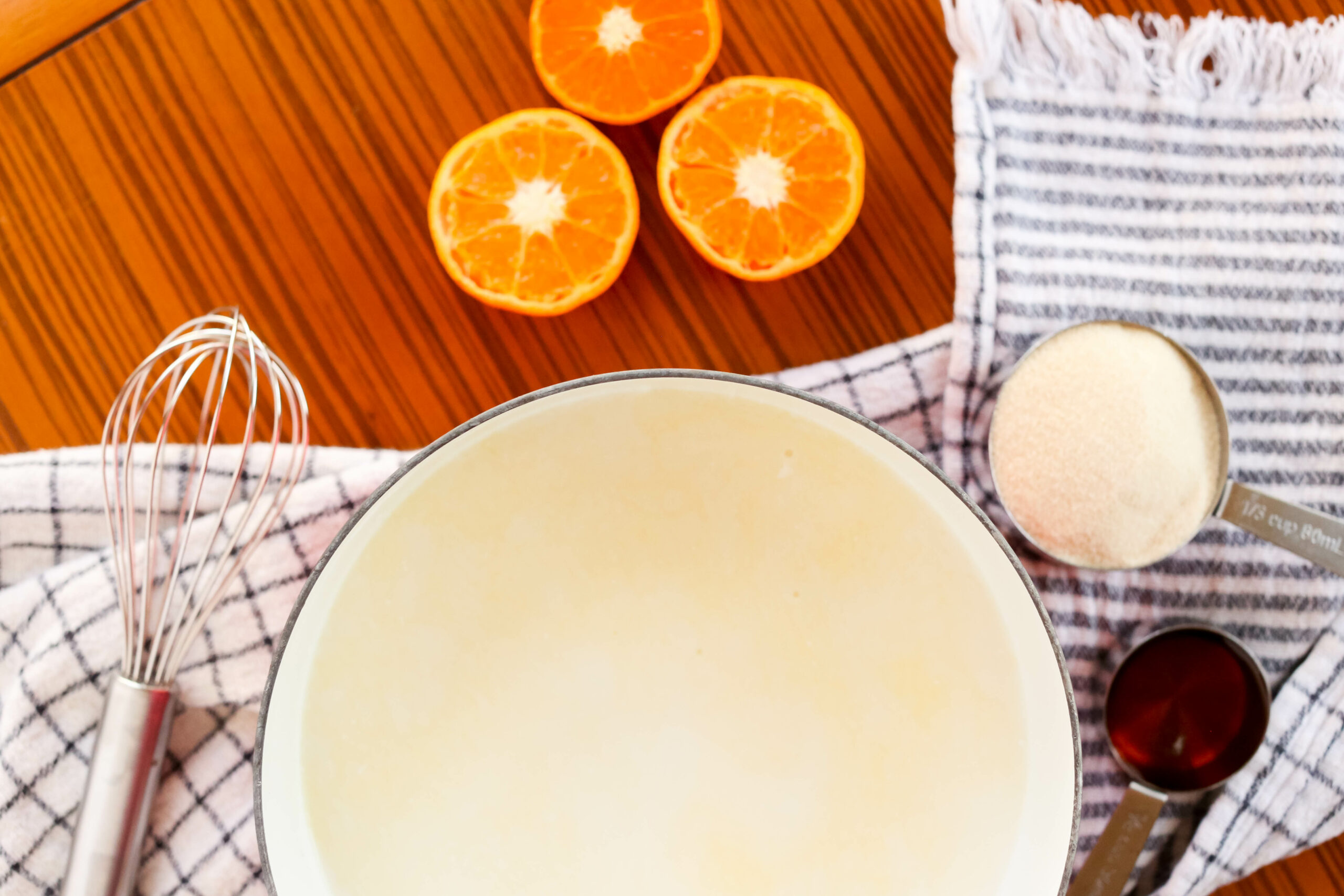 After the gelatin has bloomed, remove the pot from the heat. Stir in your maple syrup, along with the alcohol-free vanilla extract.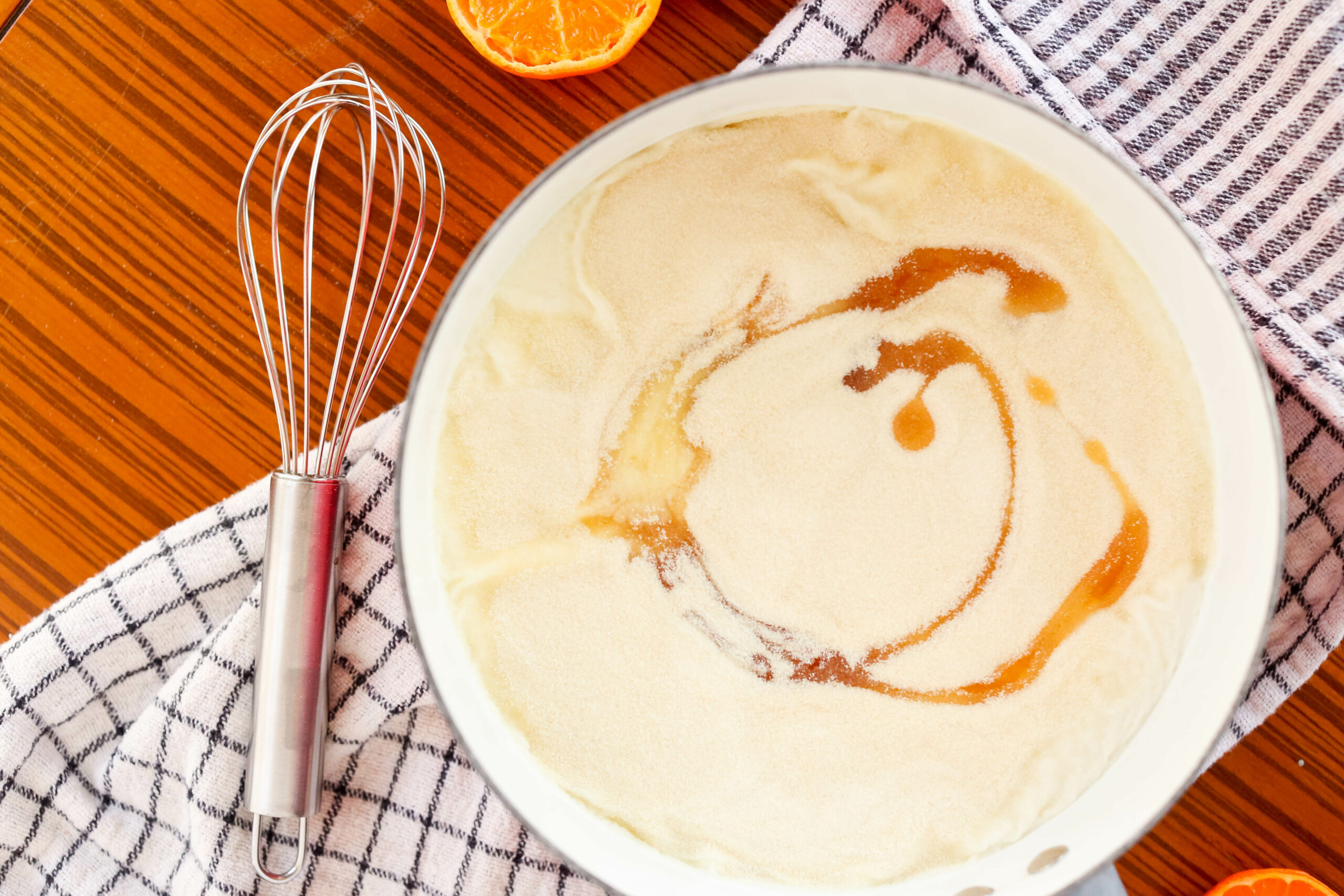 We're already at the last step!
You'll want to get out a mold, like a Pyrex container, and pour your protein gummy mixture into it. Refrigerate for about two hours. Please do not use plastic. That is just another everyday happening that is harming us. The overuse of plastic is an entire topic I'll devote a blog to at some point.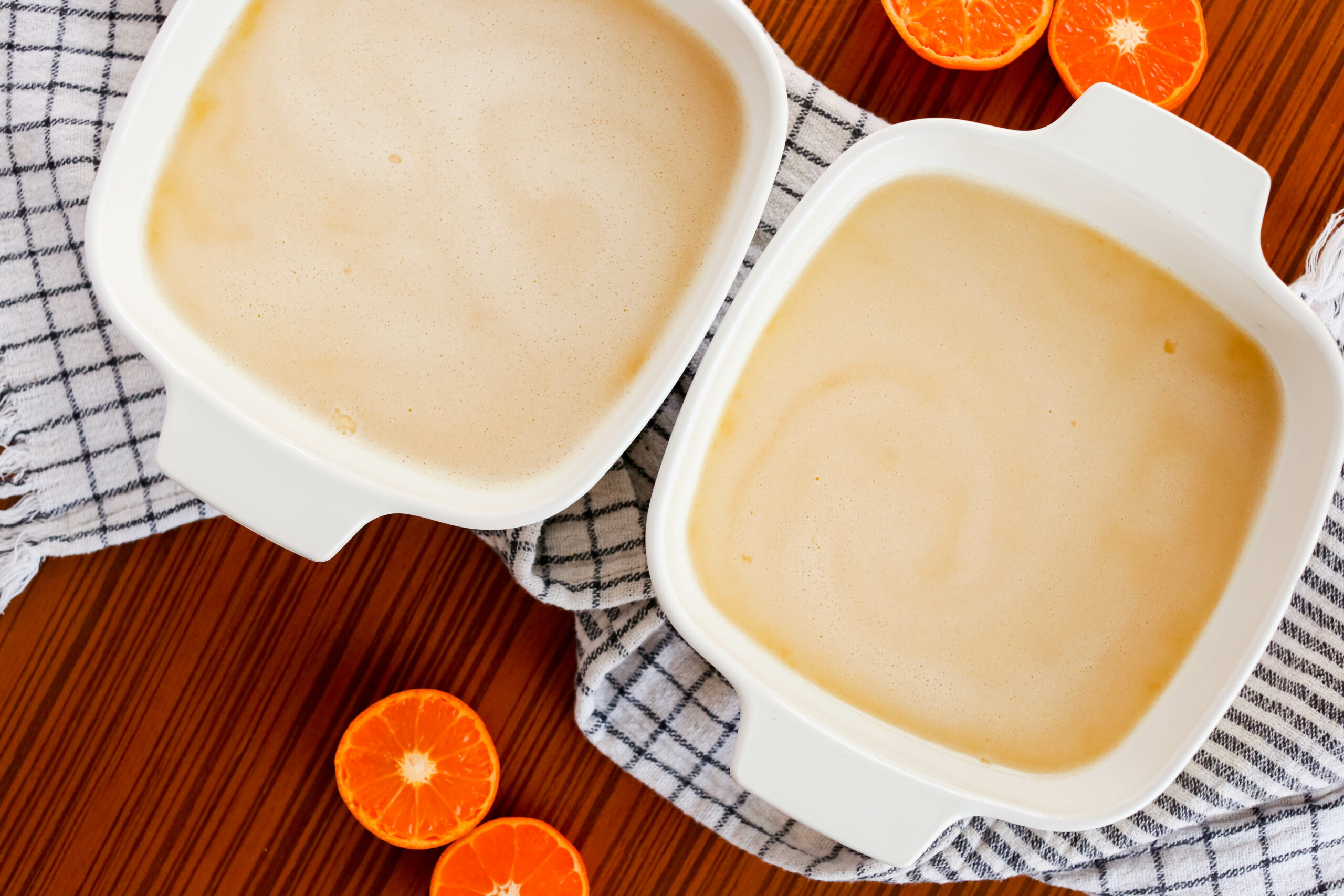 After the two hours are up, your protein gummies will be ready to be cut into pieces and enjoyed. If you're making this recipe with grandkids, it might be fun to cut them out using cookie cutters, to get different shapes. 
I've gone simplistic and just made them into squares:
Let's get into some questions that you might have about this protein gummy recipe.
Is this an AIP recipe?
Absolutely! I think every recipe I've done so far was AIP, and you can view them all on the main page of my blog. These gummies are totally AIP compliant, so you don't have to worry about anything in the ingredient list causing further inflammation in the body and aggravating your health issues.
Is gelatin healthy?
When most people think of gelatin, they think of that wiggly, jiggly stuff that comes in a box that we ate when we were kids. That stuff is full of sugar, but it is not actually gelatin in there. It's gelatin plus sugar and other additives! Gelatin, when taken all by itself, is a pretty healthy ingredient. It is made from collagen, which means it's full of protein -- an essential ingredient to healing the gut.
Is this homemade gummy candy sweet?
I get it -- if you're going to eat a gummy candy, you want it to be sweet. This recipe will fit the bill, thanks to the combination of juice, coconut cream, and maple syrup. You'll get the taste you're after without having to worry about ingredients that harm your health, like processed sugar.
Can you tell me how to reset gut health?
This is a great question, and one I help my students a lot with that enroll in the Cellular Health Accelerator program. I think it's best answered by giving you a brief overview of how our society ended up with such damaged guts:
The over-prescription of antibiotics

The use of antibacterial soap

Chlorine in our drinking water

Pesticides in our food

The overconsumption of high-sugar foods
Consider each in the list and how you might be able to combat them in your everyday life. Add in gut-healing foods like these protein gummies, and fermented foods and beverages like fresh sauerkraut and kombucha, and you'll be well on your way to resetting your gut health.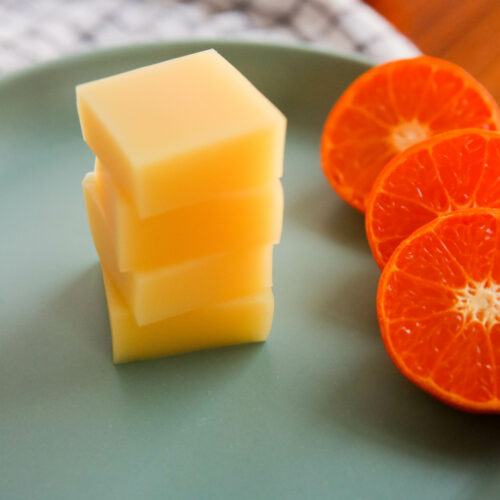 Protein Gummy
Want to do something good for your gut? Give these homemade healthy gummies a try!
In a medium pot, over low heat, add the orange juice and coconut cream, stirring to combine.

Sprinkle gelatin over the mixture and let it bloom for 5 minutes.

Remove from the heat and stir in maple syrup and vanilla extract.

Pour into mold and refrigerate for 2 hours.