I think anytime of year is the right time for a good soup. This AIP clam chowder is filling, creamy, and packed with a punch of great nutrients. Some soups can leave you feeling a little wanting, as if you're wondering where the next course is. But with this AIP clam chowder, you'll be full and satisfied after a single bowl.
If you want to make this an even more delicious meal, I'd suggest a good salad on the side. I like my salads with a ton of greens, cucumbers, carrots, olives, and more -- all depending on your personal and dietary preferences. Don't forget to top your salad with some heart-healthy extra-virgin olive oil, and some vinegar to give it a zing. I usually choose balsamic vinegar, though apple cider vinegar is a great choice, too.
How to Get Started With AIP Clam Chowder
Ready to get cooking? Great. The first step is to gather your ingredients. Here's your list for this AIP clam chowder recipe:
Bacon (beef, turkey, or pork)
Celery
Parsnips
Turnip
Onion
Marjoram
Sea salt
Wild-caught clams
Bone broth
Coconut milk
Arrowroot starch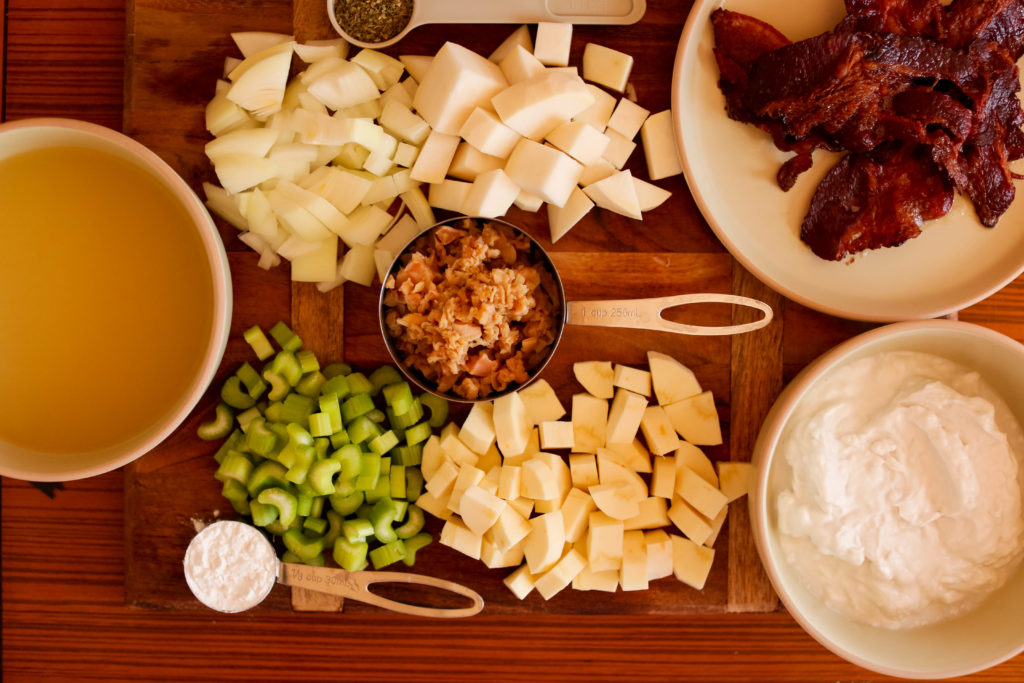 Now, I know that not everyone will like my choice of vegetables. Maybe you were forced to eat too many turnips as a kid, or parsnips have never been a taste you've enjoyed. But I purposely make these recipes to be versatile. Cut something out or replace it with a vegetable you like better. Your AIP clam chowder recipe will still turn out great!
My Step-By-Step Process
After you've gathered your ingredients, you can get started with making your AIP clam chowder.
First, you'll put the bacon grease into a large stock pot over medium heat. Add in the celery, parsnips, onion, turnip, marjoram, and salt. You'll want to cook it until the onions are translucent, which usually takes about five minutes.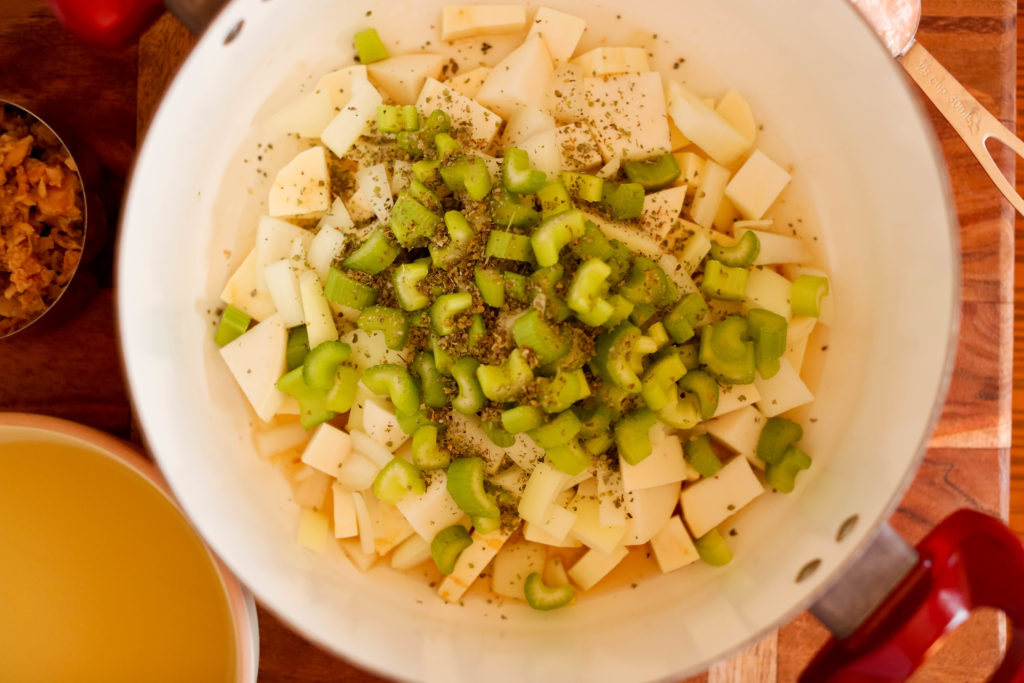 Now, if you sit and watch it cook, nothing will happen, right? The whole "A watched pot never boils" saying? So, meanwhile, you're going to get out a small separate bowl. In that, you'll put the coconut milk, then add the arrowroot starch. Stir them together and set the bowl aside.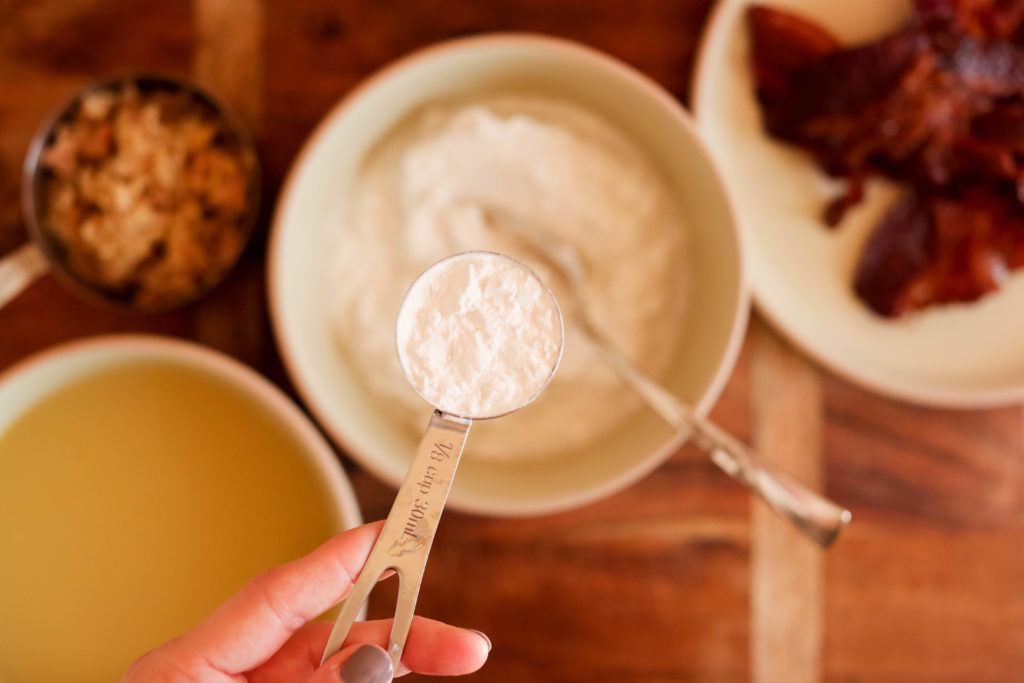 Then, it's time to turn your attention back to the big stock pot. Those onions should have turned translucent by now. You're going to add the clams, clam juice, and bone broth to your fragrant mix. Bring it all to a boil, then reduce the heat to a simmer. You'll let that go on for about 20 minutes, until the turnips and parsnips can be pieced by a fork.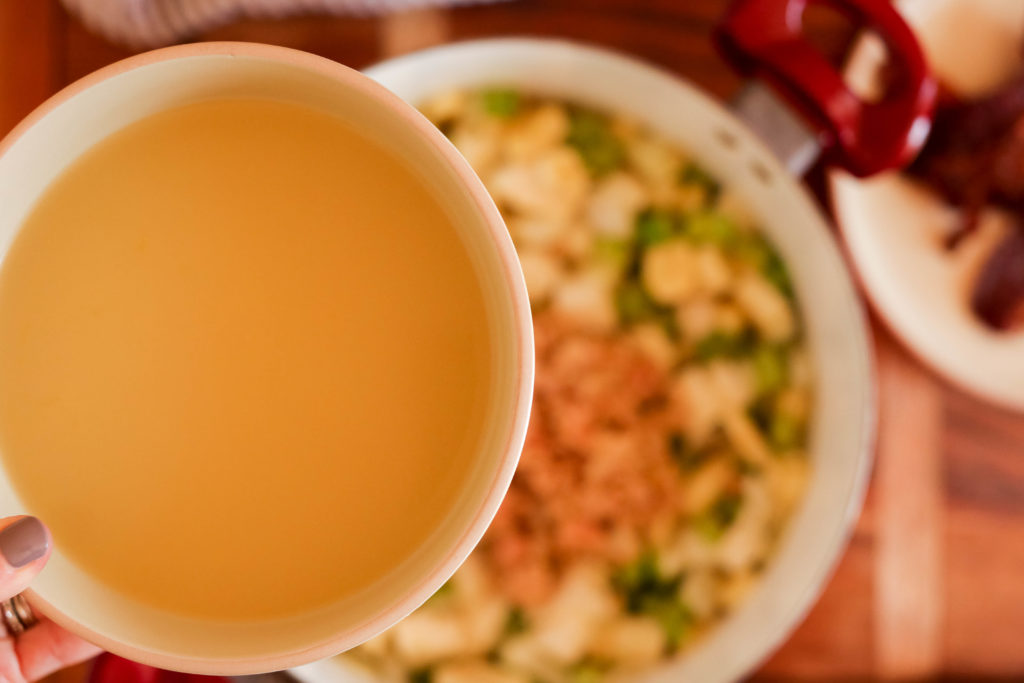 Now is when we make the soup creamy. You'll add just half of it to a blender, then add that back to the pot. If you like a chunkier soup, put a little less in the blender. If you like a smooth soup, you could even do the entire amount.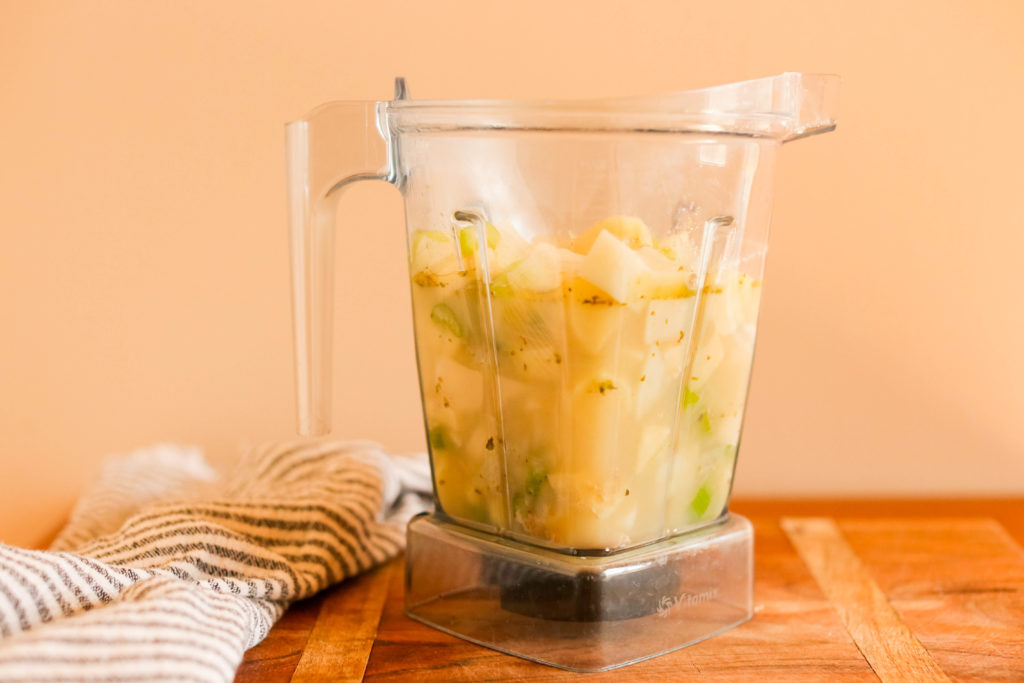 You're down to the final step now.
It's time to grab that bowl of coconut milk and arrowroot starch that you stirred up before. Add that to your stock pot.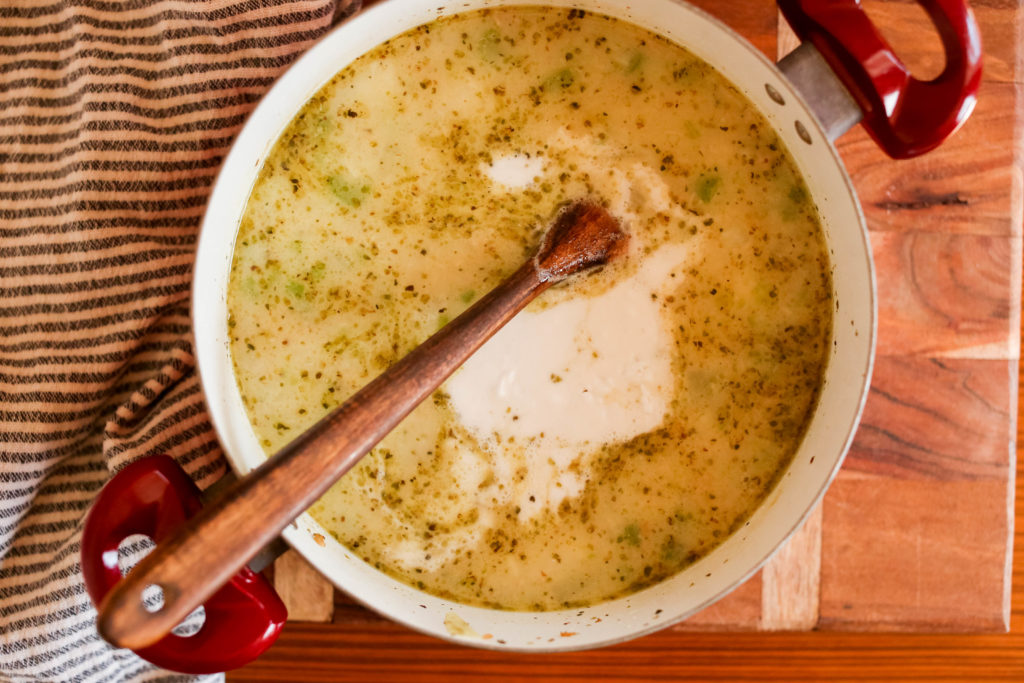 Stir that to combine. Finally: it's time to dish up! Spoon some of this delicious mixture into a bowl, then top it with the bacon you cooked earlier and used the grease from to saute all your veggies.
Your soup should look a little something like this: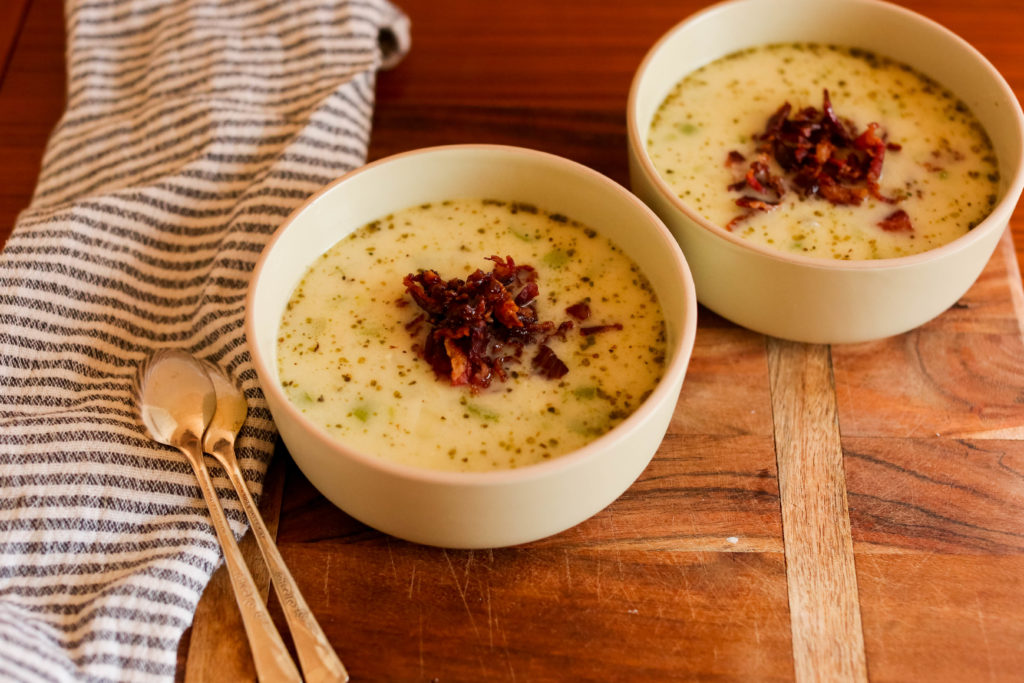 Is this a dairy-free clam chowder?
Yes! This recipe is for a dairy-free clam chowder. No milk, butter, or other dairy products are needed to make a delicious clam chowder. Typically, clam chowder contains dairy such as cream, which gives the soup that typical consistency. In this instance, however, between blending some of the soup, and the slurry made from arrowroot and coconut milk, it's just not necessary.
Is clam chowder healthy?
There are thousands of clam chowder recipes out there, as you know if you've searched for a recipe online before. This recipe, however, is a healthy clam chowder. It's packed with veggies, which will give you a lot of great nutrients. AIP clam chowder means it's autoimmune protocol compliant. The autoimmune protocol removes all foods from your diet that can cause inflammation.
Is clam chowder gluten-free?
Yes! This is a 100% gluten-free clam chowder recipe, so if you are gluten-sensitive or allergic to gluten, this is a perfect recipe for you to make and enjoy. The more traditional clam chowder recipes contain gluten, however. The use of flour to thicken the soup is common in clam chowder recipes. But rest assured, in this AIP clam chowder recipe, there is no gluten involved!
What are the benefits of clam chowder?
AIP clam chowder is an incredibly healthy choice if you're looking for a nutritious AIP meal. Let's take a look at some of the nutrient profile in this recipe: first off, there are parsnips and turnips. Both contain a good amount of Vitamin C, which we all know is necessary for healthy teeth and bones, a strong immune system, and much, much more. Each of these veggies has some great fiber in them, too. When you have your turnips and are preparing them, don't get rid of the greens! Those can be delicious on their own. Try turnip greens sauteed in bacon grease -- you'll love them!
Then, consider that this AIP clam chowder recipe also includes bone broth. Now, you could certainly use a plain, regular broth. But there's a good reason I talk a good amount about bone broth and why everyone should be including it in their diets. The nutrients involved in bone broth are going to vary based on if you're making your own, or which type you buy. If you want to try your hand at making your own, here is a great AIP recipe.
Bone broth can be the key to getting your best gut health yet. It is high in collagen, minerals, amino acids, glucosamine, chondroitin, hyaluronic acid, and more. These nutrients work together to help with digestion, reduce inflammation, protect the gut lining, improve sleep and brain function, and reverse leaky gut!
Then, there are the clams themselves. We can't leave those out, because of the great nutrients they contain! Clams are high in protein, low in fat, and contain minerals such as potassium, iron, and phosphorus. Plus, unlike other forms of seafood, they are ecologically sustainable and carry a low risk of toxicity.
So, are you ready to get to the recipe in full? Here it is!
AIP Clam Chowder: My Recipe
Ingredients
4-6 pieces of beef bacon, cooked, chopped, grease saved (pork or turkey bacon will also work)

4-6 pieces of celery, thinly sliced

3 parsnips, peeled and diced

1 large turnip, peeled and diced

1 onion, diced

1-2 tablespoons of dried marjoram 

2 teaspoons of sea salt, plus more to taste

2 cans of wild caught clams, plus the juice from one can

One 24-oz. container bone broth

One 15-oz. can full-fat coconut milk

2 tablespoons arrowroot starch
Directions
In a large stock pot over medium heat, add the bacon grease, celery, parsnips, turnip, onion, marjoram, and salt, and saute until the onions are translucent.

In a small bowl, add the coconut milk and arrowroot starch, stirring to combine, then set aside.

Add the clams, clam juice, and bone broth to the pot, bringing to a boil, then reduce the heat to a simmer and simmer for 20 minutes, or until the parsnips and turnips are fork tender.

Add half the soup, or more if you want less chunks, to a high-speed blender, blending until smooth, then pour back into the pot.

Add the coconut milk and starch mixture, stirring to combine.

Dish into bowls and top with bacon.
Happy eating!