I'm back with another fantastic recipe for you: cauliflower rice mushroom risotto. Now, this is not your traditional risotto, which is made with arborio rice. Instead, it has an AIP compliant recipe twist. A healthier mushroom risotto means that you can enjoy a delicious meal without feeling like you've done your body a disservice. You'll know you're putting good things in and getting the nutrient-dense food you need, instead of the guilt we usually feel after eating something we know isn't a great choice for us.
This cauliflower rice risotto is going to suit a lot of different eating styles: AIP, Paleo, vegetarian, vegan, and certainly anyone who is looking for a delicious meal. If you're searching for frozen cauliflower rice recipes, look no further!
Let's go through the step-by-step process of this healthy mushroom risotto.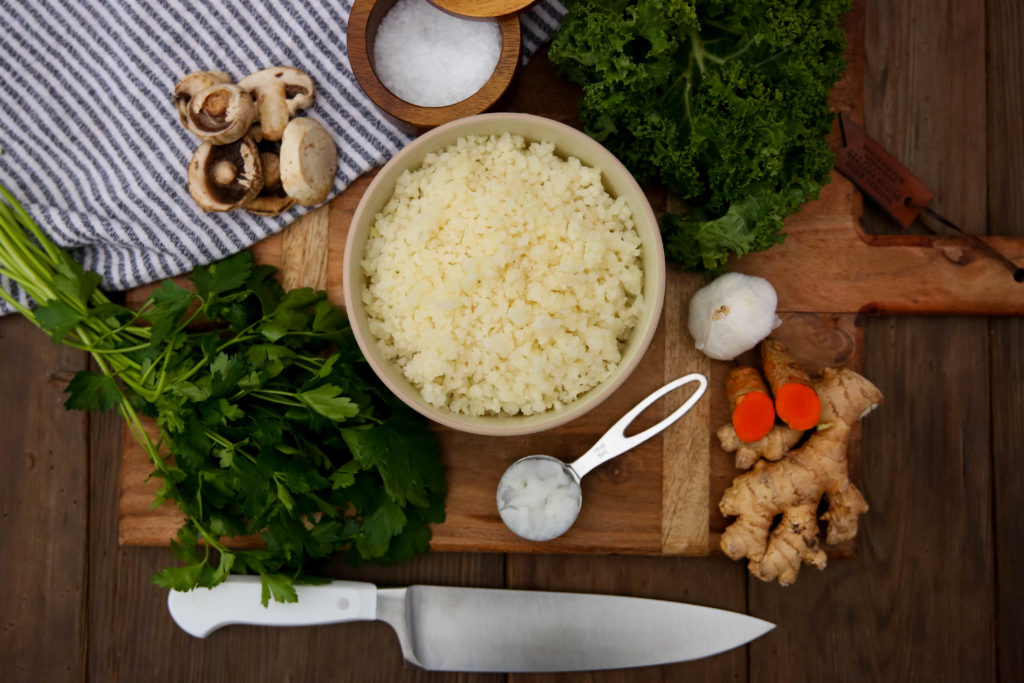 As always, you'll begin with gathering your ingredients: cauliflower rice, coconut oil, sliced mushrooms, garlic, ginger, turmeric, kale, parsley, and salt.
Add the coconut oil to your pan, then throw in the cauliflower rice, mushrooms, garlic, ginger, turmeric, and salt. You're going to saute that for about 7-10 minutes. Meanwhile, your house is going to start to smell amazing, and everyone will start asking, "What are you cooking?"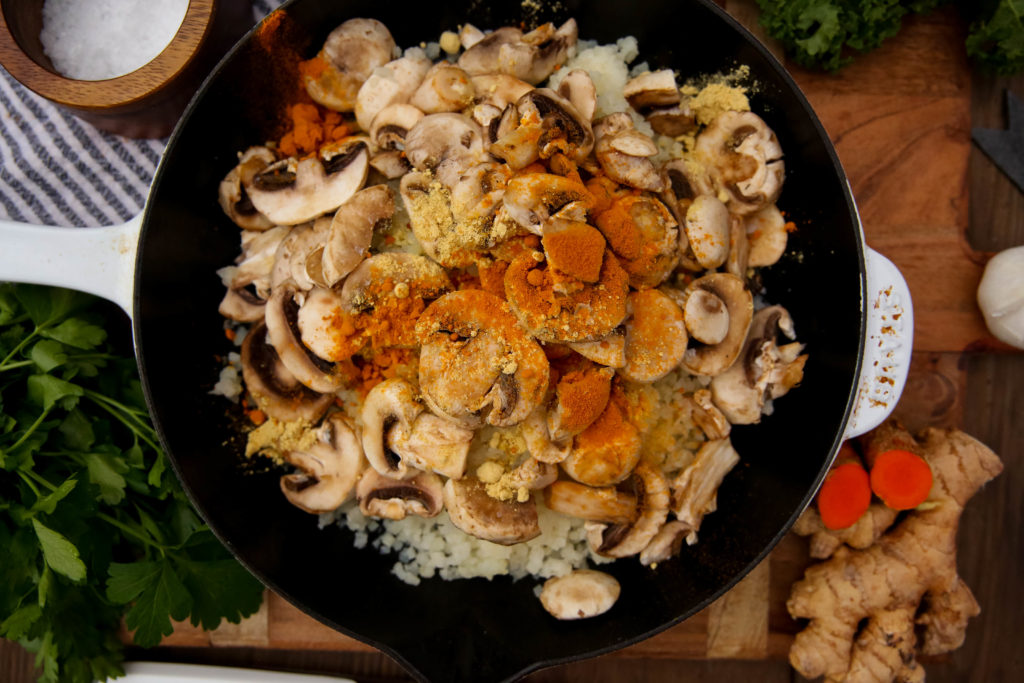 Looks pretty amazing, right? Now, you're going to want to eyeball things and maybe even give it a taste. If you think it needs more ginger, garlic, or turmeric, go ahead and add it. And salt, too, for that matter -- I am a big fan of pink Himalayan sea salt myself, and I tend to be pretty generous with that.
Next, you'll toss in your parlsey and kale.
Once everything is in the pot, give it a good stir and let it all hang out together for a few minutes. The flavors will meld and everything will get combined. The kale will have a chance to wilt a bit, which makes it easier to chew and enjoy.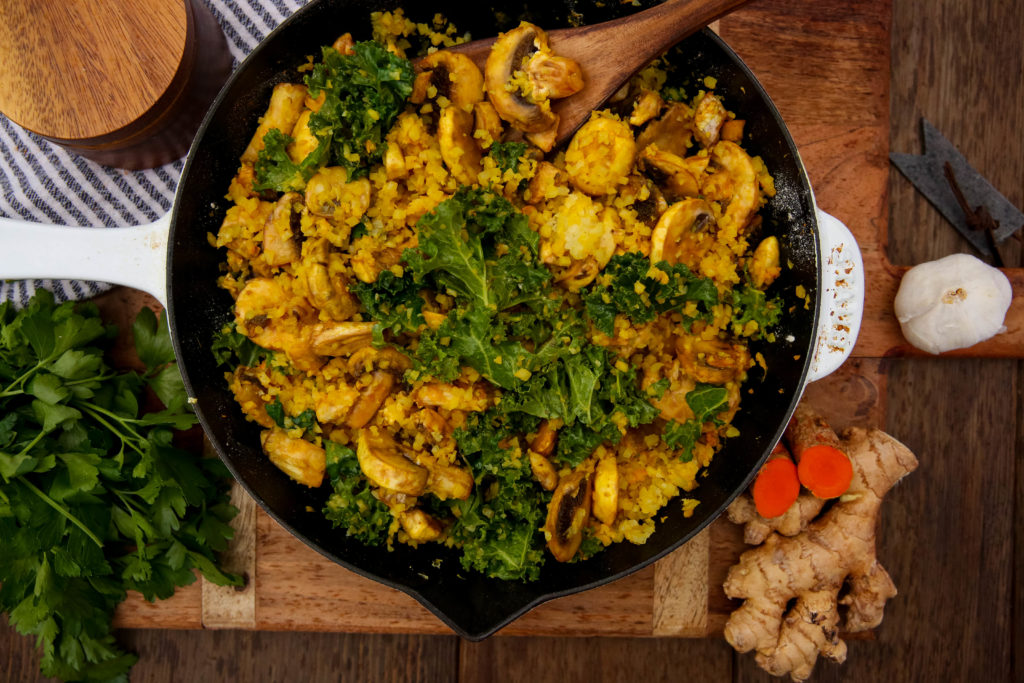 You can serve it right from the pan. This is a quick risotto, so if you're looking for fast and healthy dinner ideas that won't take long to get on the table, this is going to be perfect.
Will this healthy mushroom risotto work with barley?
If you're looking for a wild mushroom barley risotto, you're in luck. You can absolutely switch out the cauliflower rice with a grain, if you know you tolerate it.
I'm not big on grains for a couple of different reasons. First, the pesticides used on grains are so detrimental. And grains aren't always well-tolerated in the gut, either. So that's why I chose cauliflower rice for this recipe. You could do a barley wild mushroom risotto, or even use arborio rice like would be used in a traditional risotto recipe. These grains won't have the quick cooking time as a frozen cauliflower rice, however, so just be aware of that!
Is cauliflower rice mushroom risotto keto?
Yes! Many people choose a keto style of eating, which involves having very few carbohydrates. This recipe is a keto cauliflower rice mushroom risotto. If you're eating keto, you can absolutely make and enjoy this dish without having to worry about it being full of unwanted carbohydrates.  Interested in finding out more about keto eating? Check out this article.
Are there any other add-ons that would be great for this recipe?
I'd say that this healthy mushroom risotto recipe is pretty flexible. You could definitely switch it up and do a cauliflower rice risotto with asparagus and mushroom, for one.  Or prepare some veggies of your choice beforehand and add them in for a roasted vegetable risotto. Consider adding a protein for a chicken vegetable risotto. The possibilities are seemingly countless, if you have a little creativity...or some extra things in the refrigerator you'd like to use up!
Is this healthy mushroom risotto AIP Paleo?
Yes! This recipe is appropriate for anyone who is eating autoimmune protocol paleo. It is dairy-free, gluten-free, soy-free, and doesn't involve ingredients that are typically found to be allergens. This healthy mushroom risotto can be made with any additional ingredients that are suited to your preferences, too. With cauliflower rice, mushrooms, and kale, it's truly a powerhouse of nutrient density.
Interested in the full recipe? Here it is!
Cauliflower Rice Mushroom Risotto
Ingredients
1 small, 12-ounce bag of frozen cauliflower rice

1½ tablespoons coconut oil

1 8-oz. container sliced mushrooms

3 cloves garlic

1 inch fresh ginger, fine diced

1 inch fresh turmeric, fine diced

1-2 teaspoons of salt

1 bunch kale, stems removed and chopped

1 bunch fresh Italian parsley, chopped
Directions
In a large pan over medium heat, add the coconut oil, cauliflower rice, mushrooms, garlic, ginger, turmeric, and salt, and sauté for 7-10 minutes.

Next, add the kale and parsley and sauté for 2-4 minutes, or until the kale is wilted.

Allow to cool for 5 minutes and serve.
That's it -- a super easy, tasty, and nutritious meal can be on the table in about 15 minutes.
Enjoy!