Whether you're a person who enjoys spending time in the kitchen...or goes into rapid speed mode to get the cooking done...who wouldn't want a quick, easy meal? That's just what this chicken drumstick sheet pan dinner is. Though I've used drumsticks for my chicken sheet pan recipe, you can switch that up to your preferences. You can also choose the vegetables you like the best for this chicken sheet pan dinner.
Like many of the recipes I've put out on my blog, this one is pretty adaptable.
So if there are not enough spices, you want to use different chicken pieces, or you're just one of those people who has to switch up recipes as you go along, please feel free with this one.
Each Step of the Recipe
What could be simpler than an AIP chicken recipe? Not much! Let me walk you through how to make this chicken drumstick sheet pan dinner recipe.
As usual, you're going to want to gather your ingredients first. Here is the list: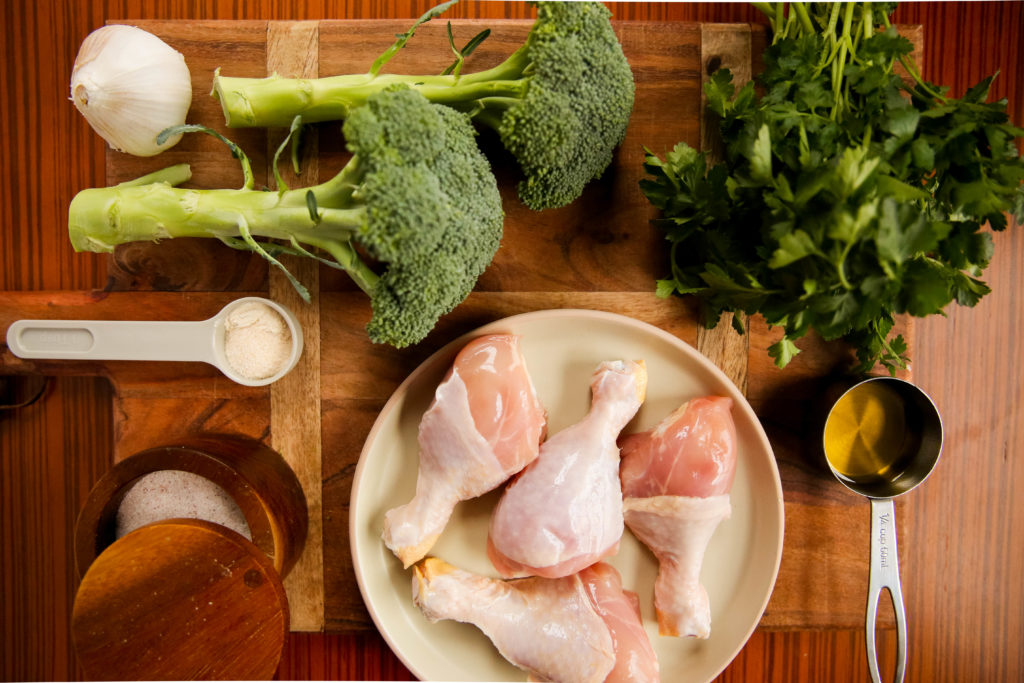 You'll need a single large bowl that you're going to use to toss all the ingredients together. In it, place the drumsticks, avocado oil, sea salt, and the garlic and onion powders. Use your hands to gently toss it all together, making sure that the drumsticks are coated with all the delicious ingredients.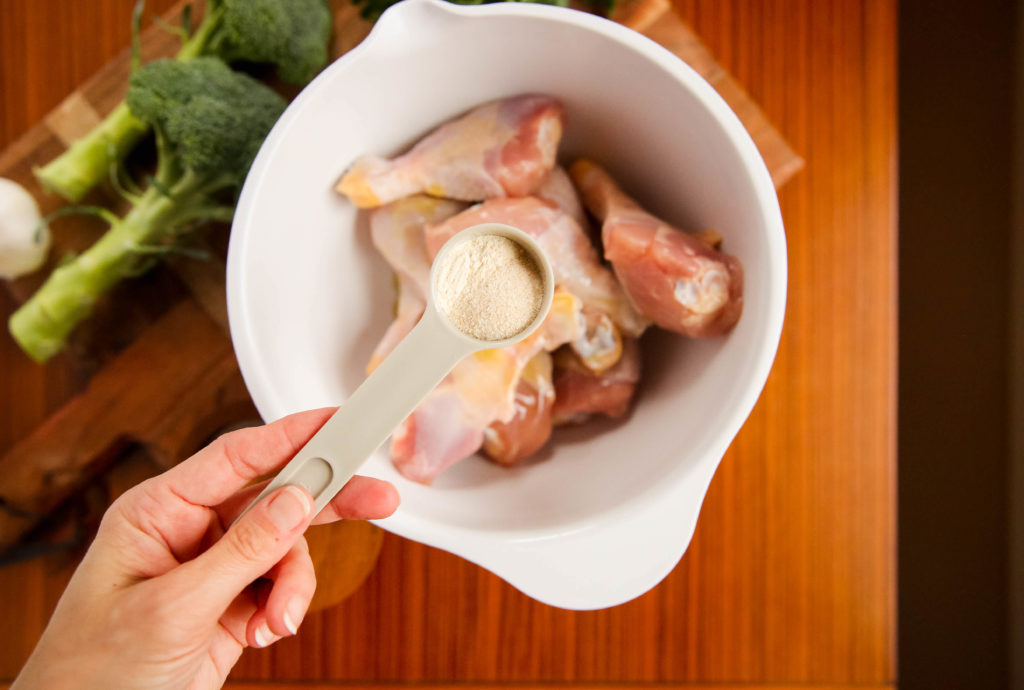 Then, add all that good stuff to a baking sheet. There will be some of the "marinade" at the bottom of the bowl, and you'll want to drizzle that over the chicken, along with whichever vegetables you've chosen for your chicken drumstick sheet pan recipe.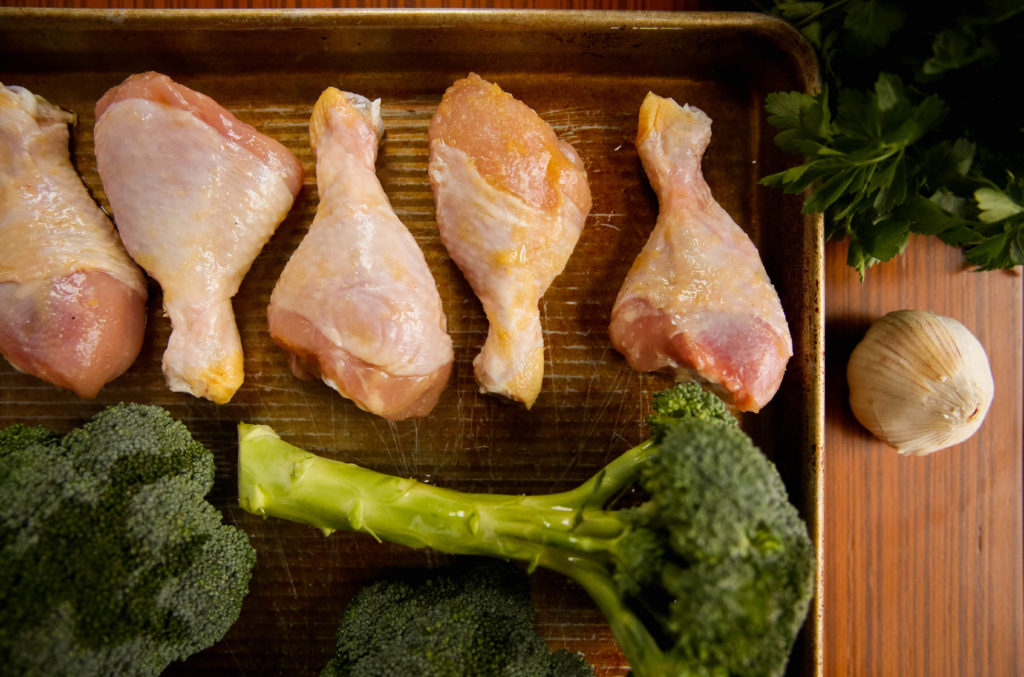 Are you starting to appreciate how simple this recipe is?
Hardly any prep time, right?
Okay, so the last part is the actual baking of your chicken sheet pan recipe. You'll want to put it in your preheated oven and bake for about 35-40 minutes.
While that's going on, you'll get this amazing parsley mixture going. Add chopped fresh parsley, olive oil, sea salt, and lemon juice to a bowl and mix it well. I know a lot of people will wonder if they can substitute fresh parsley for dried. But it's not just about the flavor -- it's about the amazing green freshness it adds, too. I wouldn't skip it if I were you!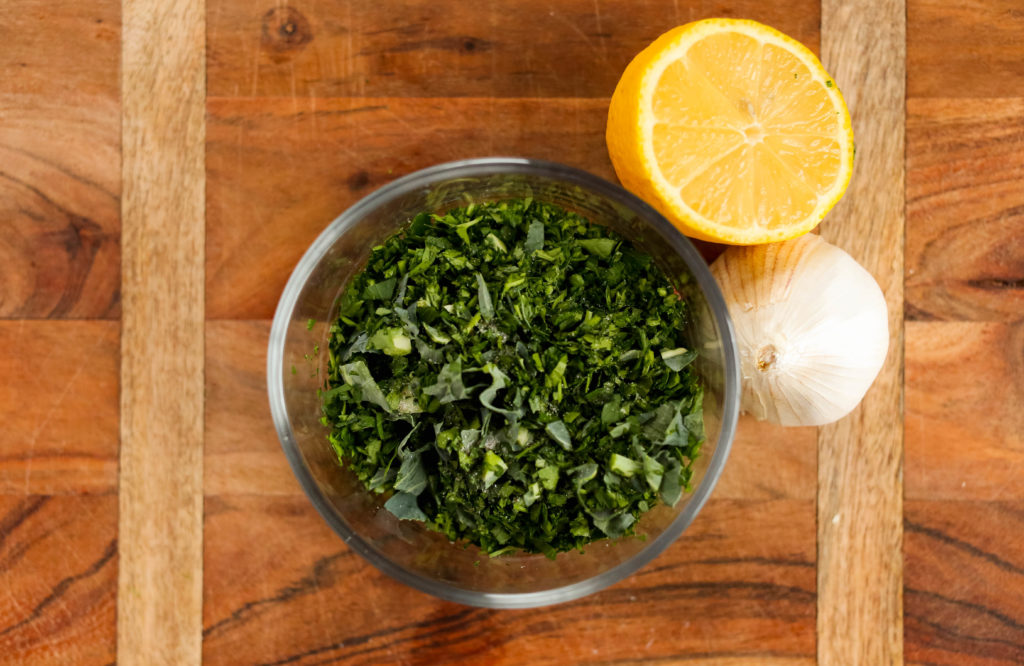 Since oven baking times can vary so much, I use a meat thermometer to know when my chicken is done. When it reaches 165°F, the chicken is done. Take it out of the oven, plate, and sprinkle it with that tasty parsley mixture.
All done!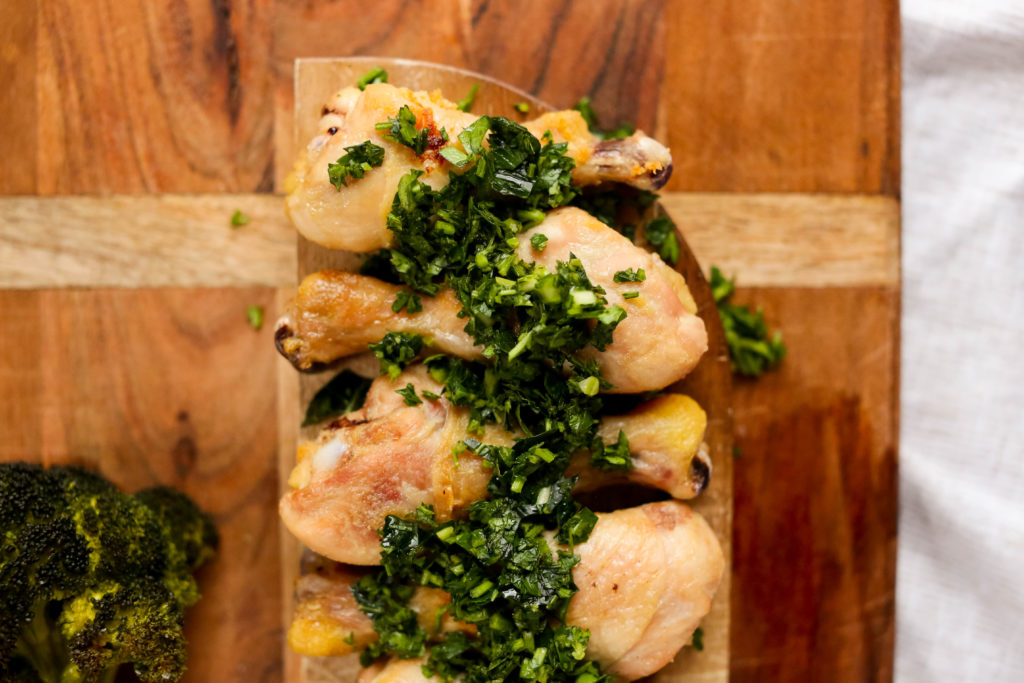 So, let's get to some commonly asked questions about this chicken drumstick sheet pan recipe.
Can I use other parts of the chicken?
Chicken drumsticks are delicious and packed with nutrients, but there is no reason you can't use another part of the chicken. I'm a big proponent of not wasting any part of the animal. I even recommend you get a whole chicken and use the non-edible parts for bone broth! To learn more about bone broth, I recommend you check out this website.
In this recipe, you can use any pieces of the chicken. I think it could get a little dry if you use chicken breasts. Chicken thighs, however, would work quite well. But either way, as long as you heat your chicken to 165°, it will be properly cooked.
Which vegetables are the best roasted?
A chicken sheet pan dinner recipe is pretty easily adapted. If you don't like broccoli, which is what I chose to include on my chicken and vegetable sheet pan recipe, you can definitely look at some other options. Consider roasted carrots and potatoes or a roasted vegetable medley of whatever is in the fridge that needs to be used up. Vegetable roasting time varies depending on what you're using, so keep that in mind.
What's the right chicken leg temperature?
In this recipe, I cooked the chicken drumsticks at 375°F. Sometimes, chicken is cooked at 400°. But the key is to have a meat thermometer. With that, you can measure the exact temperature of your chicken drumsticks. Once it reaches 165° internally, you know it's done, regardless of the temperature a particular recipe calls for.
What's in chicken leg nutrition?
There's a good reason I wanted to make this chicken sheet pan recipe. Chicken legs are full of nutrients! So first off, let's get this straight: chicken drumsticks and chicken legs are the same thing. The drumstick is just what we call the leg of the chicken. The nutritional profile is going to differ depending on the size of your drumstick. The average-sized chicken drumstick packs a protein punch, coming in at around 13 grams. Chicken leg nutrition also contains a good deal of the recommended daily intake of Vitamin B12, selenium, and phosphorus.
Is this recipe AIP?
Autoimmune protocol recipes are designed to remove all possibly sources of inflammation from the food you eat. I recommend this type of eating to a lot of my students in the Cellular Health Accelerator program (if you want to learn more about me and what I do, please feel free to have a look around my website). It's highly beneficial for people who know that certain foods may not be good for them, or may be worsening their condition, but they're not exactly sure which foods those are. AIP chicken recipes are a great bet to get lean protein with tons of other nutrients.
If you're curious to learn more about autoimmune protocol, or AIP, I recommend you check out some information on Dr. Sarah Ballantyne's website. She is a pioneer in the field of AIP and has a true wealth of resources for you to check out on her website. This AIP chicken recipe is a great starter that you can even use as a base if you're just getting started with a new diet.
The Full Recipe for Sheet Pan Chicken and Veggies
Ingredients
8-10 drumsticks

2 tablespoon avocado oil

1 teaspoon salt

2 teaspoons garlic powder

2 teaspoons onion powder

Vegetables to roast of choice

1 bunch chopped fresh parsley

1 tablespoon olive oil

½ teaspoon salt

Juice of ½ lemon
Directions
Preheat the oven to 375°F.

In a large bowl, add the chicken drumsticks, avocado oil, sea salt, garlic powder, and onion powder. Use your hands and toss to combine, coating the chicken. 

Add the drumsticks and vegetables  to a baking sheet and drizzle any excess oil/spice mixture over the top, and bake for 35-40 minutes, or until the internal temperature of the chicken  reaches 165 F. 

While the chicken is cooking, add the chopped parsley, olive oil, salt, and lemon juice to a medium-sized bowl, and mix until well-combined.

Once the chicken is done, plate, and sprinkle with parsley mixture.
When you're all done, you'll have a beautiful dish that looks something like this one. I think your entire family will go for it!