Here's a recipe that is going to taste great any time of day: gluten-free apple crumble muffins.
This recipe is perfect if you have company over and want to serve them a little treat. Want to turn it into a dessert? Serve these apple crumble muffins with some whipped coconut cream to make them an AIP/Paleo after-dinner treat. They're a fantastic choice for a breakfast on-the-go, too.
You'd be hard-pressed to find a better combination than baked goods with apple and cinnamon. You'll love the way your entire house smells as these AIP muffins are baking!
The Ingredients You'll Need
Your ingredient list contains quite a few things you likely have already in your cupboard, so be sure to check before making your shopping list.
Here's what you'll need:
Cassava flour

Tiger nut flour

Arrowroot flour

Baking soda

Cream of tartar

Gelatin

Cinnamon

Applesauce

Coconut oil

Bananas

Maple syrup

Water or full-fat coconut milk 

Apples

Coconut sugar, for sprinkling
Notes On a Few Ingredients
I thought I should give a couple of helpful hints on the list above. I wouldn't recommend trying to substitute the cassava flour, tiger nut flour, or arrowroot flour (which is also sometimes called arrowroot starch). Each of these flours is incredibly unique, and making a change will result in a different finished product.
As far as the gelatin goes, you're only going to want to use unflavored. The flavored gelatins have either sugar in them, or a chemical sugar substitute, neither of which will have good effects on your health.
Finally, I wanted to mention the applesauce. If you don't have a jar of applesauce on hand, it's really easy to make your own from the extra apples that aren't required in the recipe. Just a half a cup is required, so about one apple will suffice. Peel it, dice it, and boil in a small amount of water until softened. Use a handheld blender to turn it into applesauce. Simple and quick!
The Step-By-Step Process
As usual, you'll want to start by gathering all the ingredients. Then, you'll want to add all your dry ingredients to one bowl.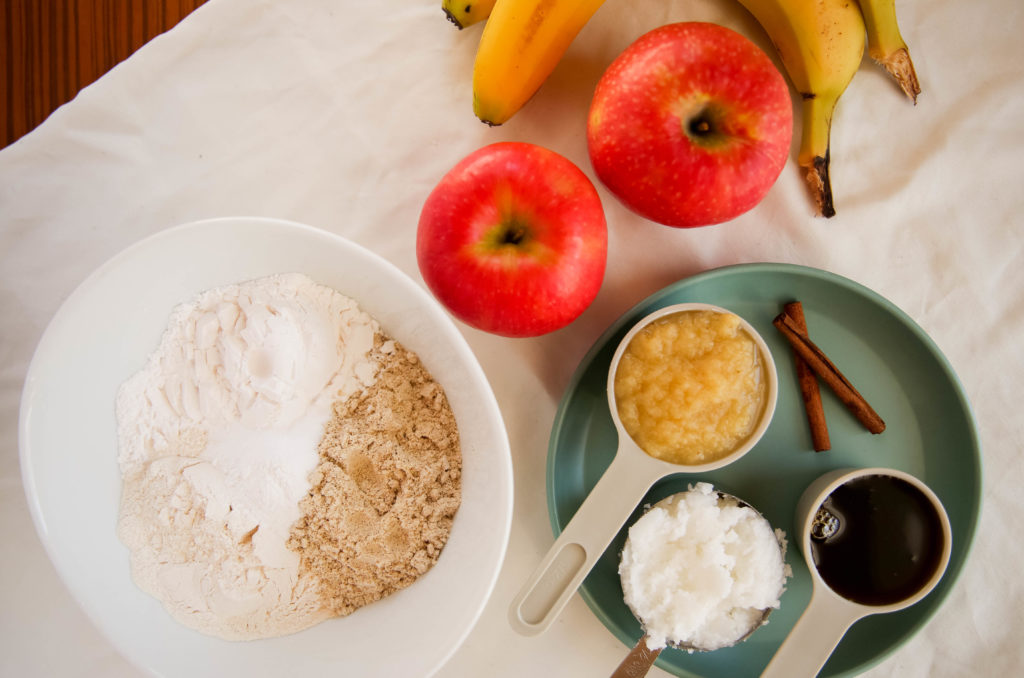 The next step is to get a second bowl and add your wet ingredients to it, mashing the banana as you go.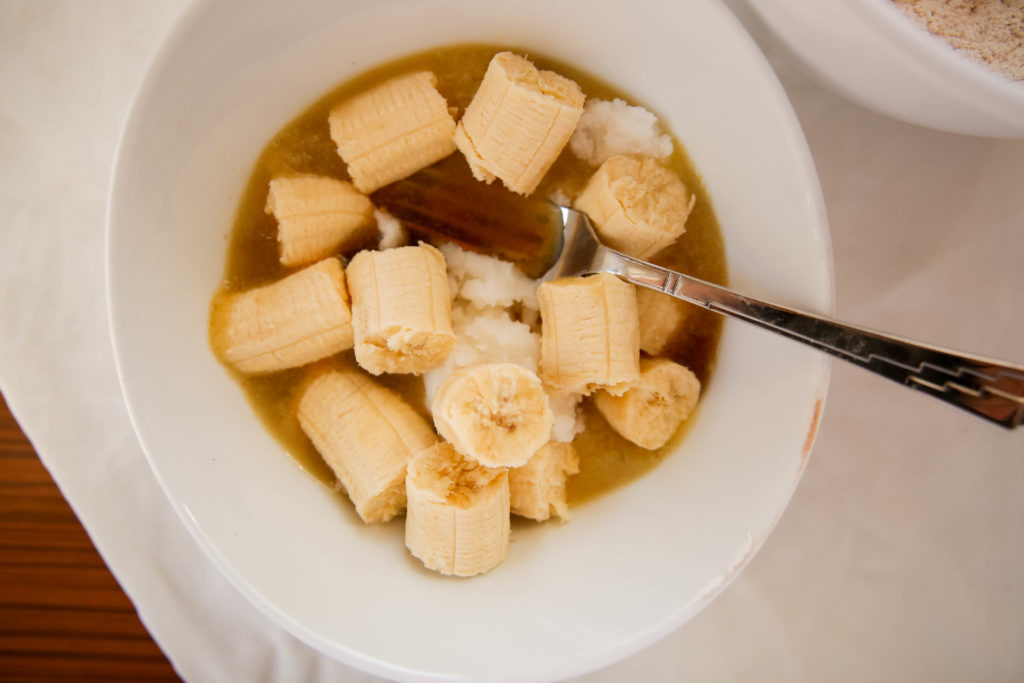 Next, you're going to combine your wet ingredients with your dry ingredients.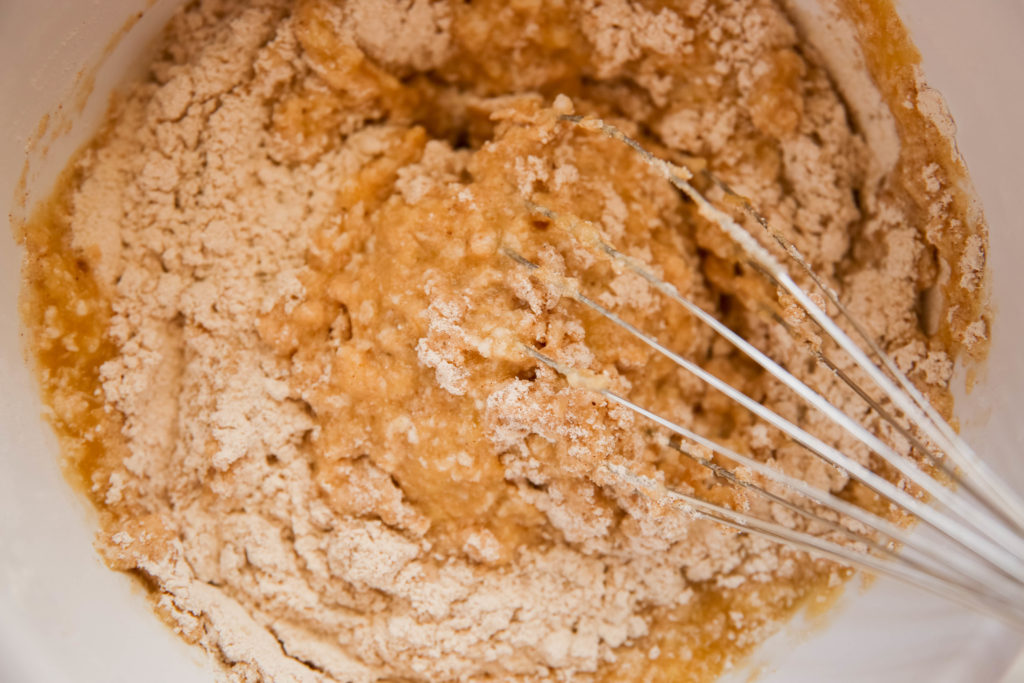 Finally, you're going to fold in the apples. That means to lightly scoop around the bowl until the apples are combined so that you don't overmix.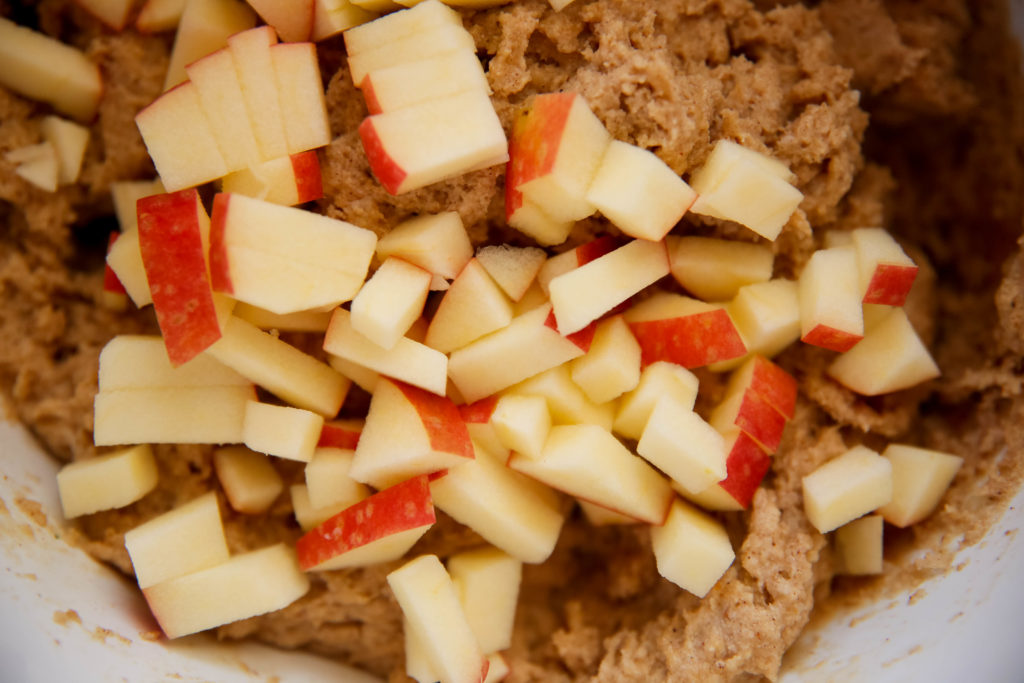 Don't be alarmed if the batter is thick -- that's exactly how it should be at this stage.
You're going to want to carefully spoon the batter into a muffin tin that contains muffin liners. If you don't have liners, be sure to generously grease each cup with coconut oil.
Finally, top each muffin with a sprinkle of coconut sugar.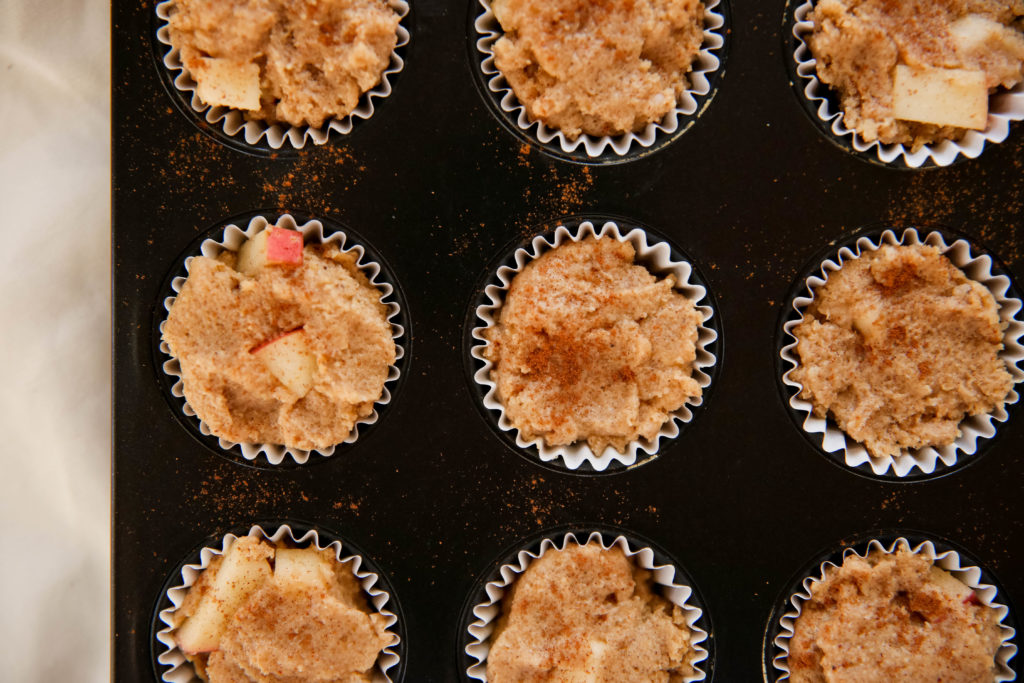 You can use mini muffins or regular-sized muffins in this recipe. The baking time, however, will be different for each. With regular-sized muffins, you'll need to bake them for about 35 minutes. For mini-muffins, the time required will be shorter, about 25 minutes.
Because baking time can vary greatly with each oven, you'll want to use a toothpick to test the doneness of the muffins as they get close to finishing time. If the toothpick comes out clean, the muffins are ready to be taken out. But if the toothpick comes out with batter on it, they're not quite done yet.
Are these gluten-free apple crumble muffins good for those who don't eat gluten or dairy?
This recipe is for gluten-free, dairy-free apple cinnamon muffins. If you're looking for AIP banana muffins, these will also fit the bill. AIP and Paleo, they're suitable for people who have a range of dietary restrictions.
Are these gluten-free apple crumble muffins sweet or savory?
This recipe is for a sweet, gluten-free apple crumble muffin. There is sweetness from the bananas, the applesauce, the apples, and the maple syrup. Plus, the sprinkle of coconut sugar on top will give a little extra touch of sweetness!
Does baking soda have gluten?
This is a common question for many people who aren't too familiar with eating AIP or Paleo. In most cases, baking soda is gluten free. But not all! That's why it's so important to read your labels. I recommend a brand like Bob's Red Mill that is always gluten-free.
What is tiger nut flour?
Tiger nut flour is made out of tiger nuts, as you could probably guess. Most people have never heard of tiger nuts. But thousands of years ago, they made up a huge part of the diet of humans. The reason that tiger nuts are AIP compliant is that they are actually NOT nuts -- they're tubers, just like a sweet potato!
If you want to learn more about the benefits of tiger nuts, this is a great article for you to read.
The Full Recipe For Apple Crumble Muffins
Ready to get started? Here is the full list of ingredients and directions.
Ingredients
1 cup cassava flour

½ cup tigernut flour

½ cup arrowroot flour

2 tsp baking soda

½ tsp cream of tartar

2 tablespoons gelatin

1 teaspoon cinnamon

½ cup apple sauce

½ cup coconut oil

2 ripe bananas, chopped

½ cup maple syrup

¼ cup water or full fat coconut milk 

1 cup chopped apples of choice

Coconut sugar, for sprinkling
Directions
Preheat the oven to 350°F. Meanwhile,

In a large mixing bowl, add the cassava flour, tigernut flour, arrowroot flour, baking soda, cream of tartar, gelatin, and cinnamon, mixing to combine.

In a separate bowl, add the applesauce, coconut oil, bananas, maple syrup, water or coconut milk, mixing to combine. You can also add to a blender and blend until smooth.

Add the wet ingredients to the dry ingredients, mixing until well-combined.

Fold in the apples. 

Line a mini muffin pan or regular muffin pan with liners and, using a spoon, equally distribute the batter. You'll have to use your hand to help mold the muffins, since this batter will be a bit thicker than typical muffins.

Top with coconut sugar.

For mini muffins, bake for 25 minutes. For regular muffins, bake for 35 minutes. 
Happy eating!