Need a warming dish that won't involve cooking all day? This pumpkin soup with sausage is a great choice. It's packed with nutrients (including spinach that gives the soup more texture and makes it even healthier), has plenty of protein, and is incredibly filling.
The sausage can even be omitted to become a vegetarian pumpkin soup, if you prefer. You could even prepare it without the sausage, scoop out a bowl of meat-free, hearty soup, then add the sausage back in for those who want it.
An extra dose of nutrients comes from the use of cauliflower rice. Soups with cauliflower rice are becoming increasingly popular, and this is one that will fit the bill if that's what you're looking for.
You Won't Need A Laundry List of Ingredients
I bet you have quite a few of the ingredients for this pumpkin soup with sausage already in your pantry.
Here is the full list of ingredients you'll need for this soup:
Yellow onion
Chicken sausage links (make sure they're AIP approved if eating AIP)
Garlic
Frozen spinach
Frozen cauliflower rice
Chicken bone broth
Pumpkin puree
Oregano
Thyme
Salt
The Step-By-Step Recipe
The first thing you'll do is gather the ingredients, all of which are listed above.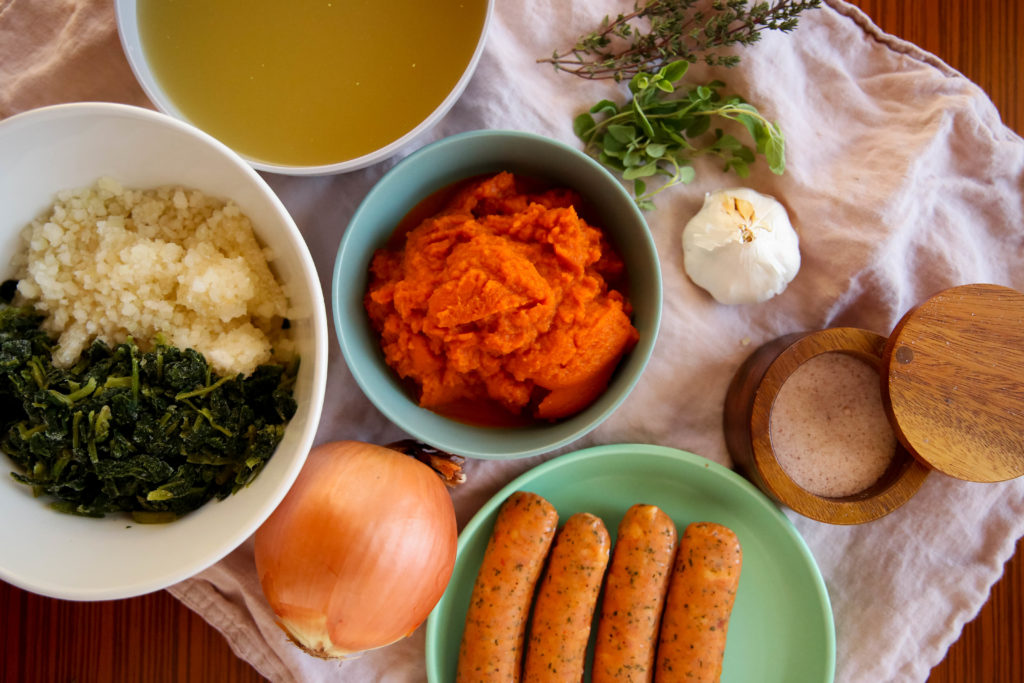 Then, you'll grab a large-sized stockpot and put it on medium heat. Add the onion, sausage, and garlic, and stir until the onions become translucent. If you find you need a bit more oil during the process, add a knob of coconut oil or avocado oil.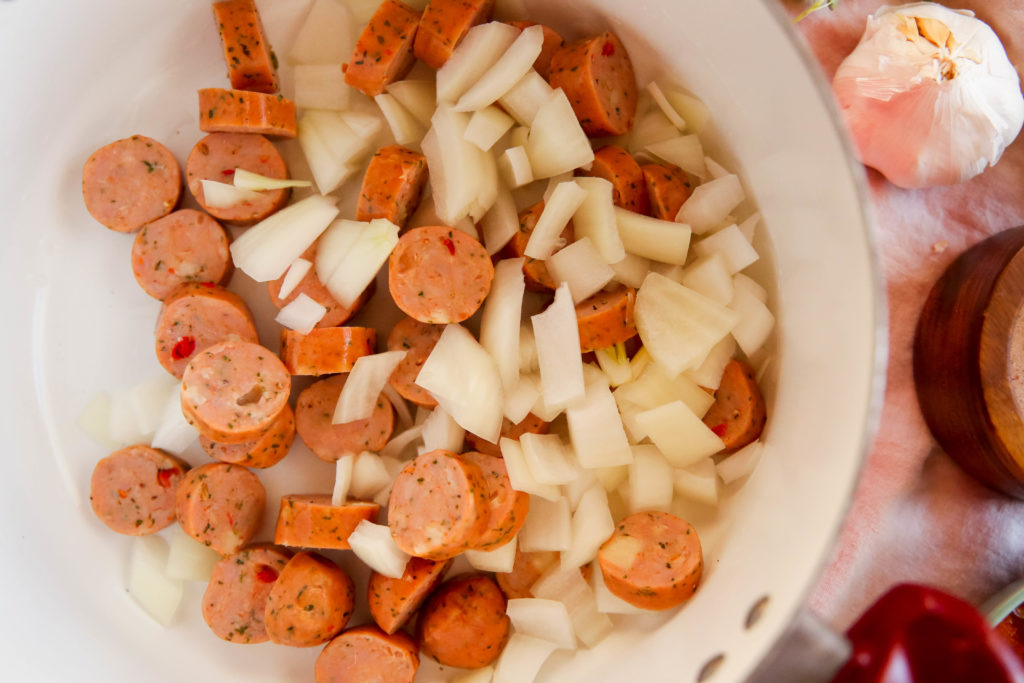 It's going to start to smell great as soon as the onions and garlic start frying!
Give it all a good stir, then reduce the heat so the paleo pumpkin soup is brought down to a simmer.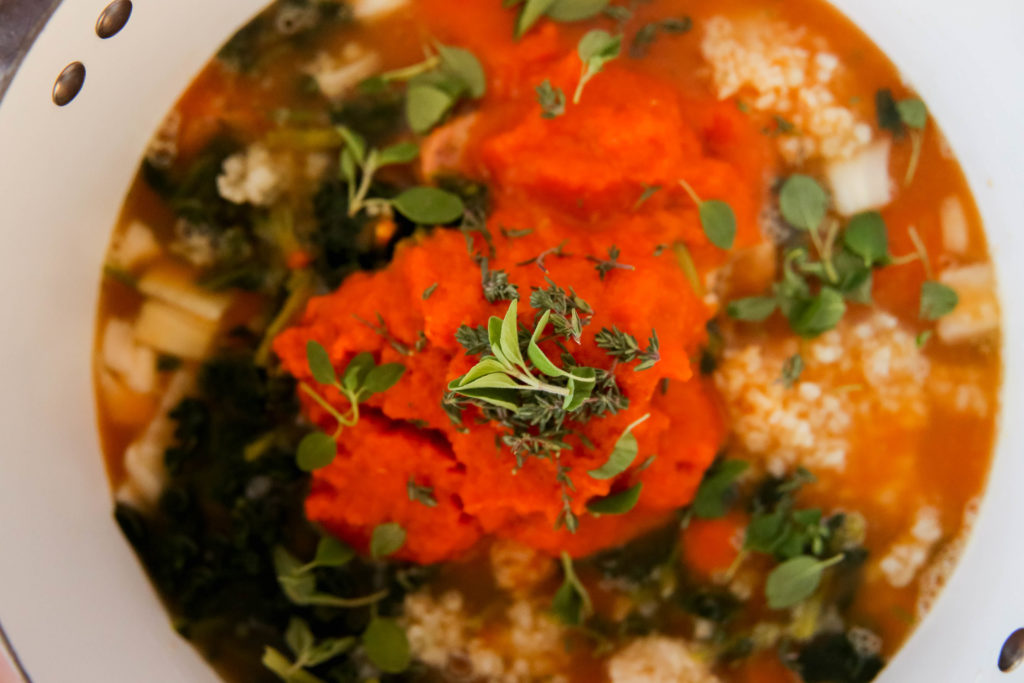 You're basically done at this point. Pretty simple, right? You'll want to check on that simmer every now and again to be sure the heat isn't too high.
But otherwise, after about 30 minutes of simmering on its own, here's what you'll see: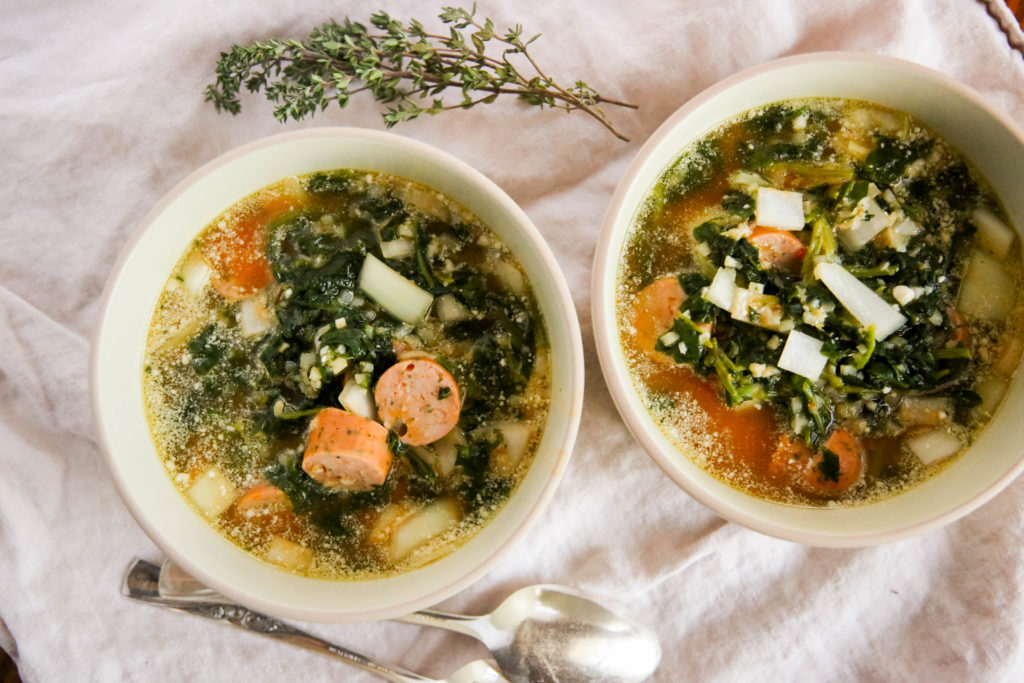 If you're not eating AIP (autoimmune protocol), then you may already have a favorite chicken sausage that you have in mind for this soup. Those who would like to be AIP compliant, I'd advise you to read the label on the sausage pretty closely. Even the ones that are labeled things like "all-natural" can have additives you wouldn't necessarily expect.
The Deal With Bone Broth
You don't absolutely have to use bone broth in this soup. A regular chicken broth would work, too (although this is another item on the shelf that often has crazy amounts of unnecessary additives, so read the labels!). The reason I recommend bone broth is because it has so many healing properties. If you want to find out more about it, check out this video at about the two-minute mark.
It's fairly simple to make your own bone broth, too. Want to see a chicken bone broth recipe? You can find a great one here if you're just getting started and want to know more. You can make a super tasty chicken dish, then use all the leftover parts of your chicken to make the bone broth. Way better than wasting so much of the chicken, right?
Is this a paleo pumpkin soup?
Yes! Eating paleo means that you don't eat any dairy, grains, or legumes. It's eating just like our ancient ancestors did, with a focus on nutrient-dense foods. This page has a great overview of the paleo lifestyle, if you're interested in learning more. This paleo pumpkin soup will be a hit for anyone, no matter what their dietary restrictions may be, but it's definitely suitable for those eating paleo.
Is there dairy in this pumpkin sausage soup recipe?
If you're looking for a dairy-free pumpkin sausage soup, this is the right recipe for you. A lot of soups are made more filling by adding cream, milk, or another form of dairy. But this soup is plenty filling, thanks to the combination of pumpkin puree, cauliflower rice, spinach, and sausage. Just think of all the nutrients included in that list!
Can this recipe be made vegetarian?
Yes, absolutely. You could omit the sausage and make this recipe a pumpkin kale soup instead. It'll still be tasty and full of nutrients. Make it without the sausage, scoop out the desired amount for the vegetarian you're serving, then add the sausage in for the others who prefer to have the protein-laden version.
Can I substitute dried herbs for fresh?
Yes, absolutely. If dried is what you have on hand, then you'll want to reduce the amount you're using. Dried herbs are more concentrated than fresh. Try just a bit, then taste the soup after it's simmered. Add more if desired.
Ready for the full paleo pumpkin soup recipe? The ingredient list isn't very long, and the directions take just a couple of easy steps. Here it all is:
Pumpkin Soup With Sausage Recipe
Ingredients
1 yellow onion, chopped

4 AIP-compliant chicken sausages, sliced

3-4 cloves garlic, fine diced

2 cups frozen spinach

2 cups frozen cauliflower rice

6 cups of chicken bone broth

One, 15-ounce, can pumpkin puree 

2 tablespoons oregano, dried

2 tablespoons thyme, dried

2 teaspoons sea salt 
Directions
In a large stockpot over medium heat, add the onion, sausage, and garlic, stirring frequently for about 5 minutes, or until the onions become translucent.

Add in the remainder of the ingredients, stirring to combine.

Bring the soup to a boil, then reduce to a simmer for 30 minutes.

Allow to cool for five minutes, adjust seasonings to taste, and serve!
I hope you enjoy this one!