Why Coconut Milk?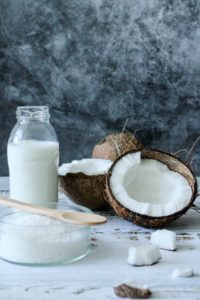 You might wonder why I use coconut milk over traditional cow's milk, or even choices like almond milk. Coconut milk is really, really rich in healthy fat. That's what is a big missing ingredient in the typical American diet, especially sick people. We've been told that we shouldn't have fat. That it makes us fat. That it gives us heart disease, especially saturated fat. Well, nothing could be further from the truth. It's something that we need to help heal ourselves, help burn fat, make hormones, and just regulate brain functions. There's so much about healthy fat that we need. That it does what we need in our body.
Counting Calories? 
I wanted to make mention of something else that people tend to have misconceptions about. This smoothie adds up to about 500 calories, which isn't too bad. A lot of people have been on calorie-deprivation diets for too long.
But there is still something to the idea that consuming too many calories when your body's not effectively able to burn those calories, especially the fat calories. That's something you need to work yourself into.
In the beginning, you might want to use a quarter or a third of the can of coconut milk. Over time, you'll notice your body becomes better at burning calories, and then you can start to use more and more of the coconut milk. But subtracting some of the coconut milk or fruit will keep your carbs down if you want to do that, and you don't need to add in any honey to sweeten if carbs are your concern. 
Don't be afraid to experiment with this breakfast recipe -- add in some spinach or anything else that will give it a nutritional boost! Healthy breakfast ideas don't have to involve complex recipes or costly ingredients. 
If you like getting information on nutrition, I highly recommend that you head over to my YouTube channel. I've got quite a few videos on there that will be of interest to you!