Is there any weather that isn't soup weather?
Okay, maybe when the thermometer starts to climb above 75-80. In my opinion, though, this AIP chicken soup is a great choice any time of year.
Chicken soup is the ultimate comfort food.
It's tasty whether you're sick or feeling fine. This AIP recipe puts a spin on healthier chicken soup by being totally free from inflammatory ingredients.
Your Ingredient List
For this AIP chicken soup, you'll need some of the usual ingredients, as well as a few that might surprise you. There are plenty of fresh herbs in it, too. Using dried will suffice, if that's all you have on hand, though I'd really recommend if you're going to splurge on one herb, make it the parsley. Dried parsley just doesn't substitute for fresh!
Here are your ingredients:
Avocado oil
Carrots
Celery
Sea salt
Garlic (optional)
Fresh sage
Fresh oregano
Fresh rosemary
Chicken
Chicken bone broth
AIP pasta (I like the Jovial brand of cassava noodles)
Fresh parsley
The Step-By-Step Process
Let me break down each step of this AIP chicken soup recipe to make it easy for you to follow. First, gather up your ingredients so you have everything right at hand.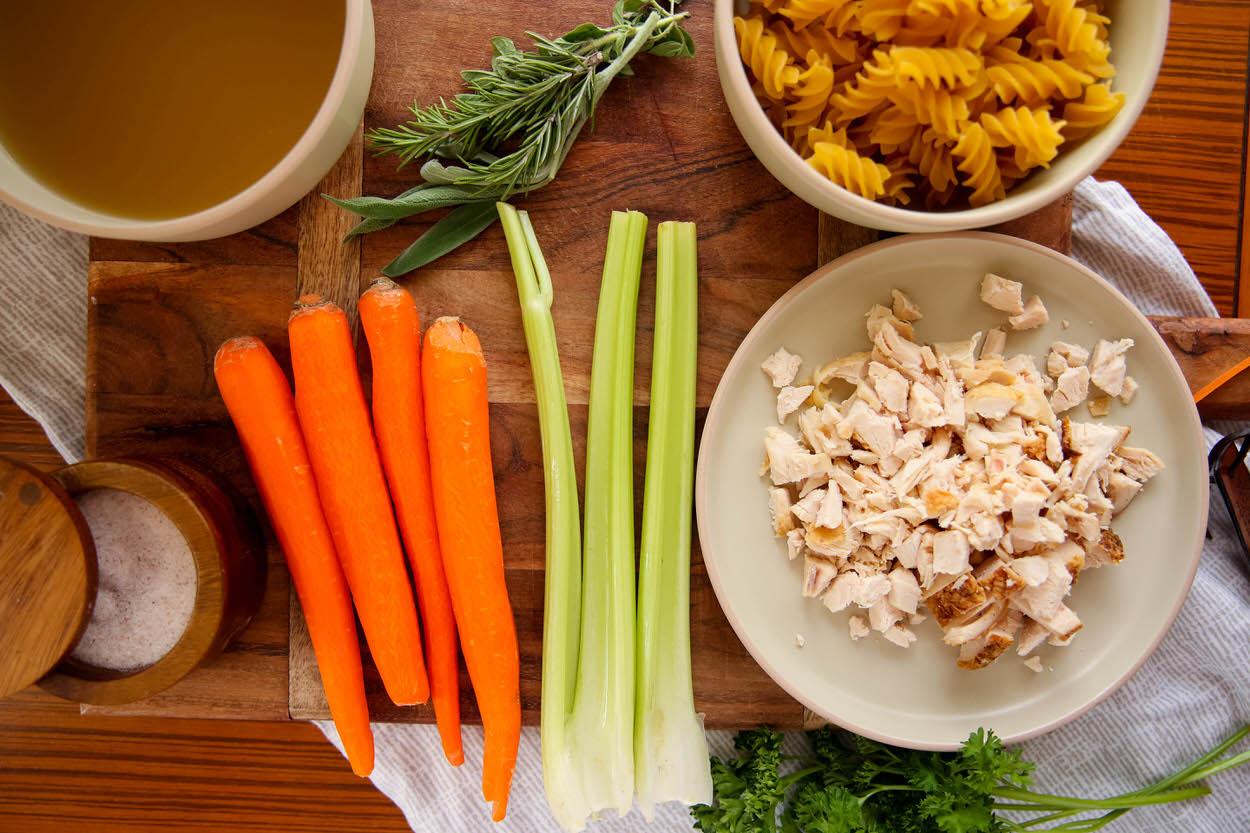 Get out a large stockpot and set the stove burner to medium heat.
Then, add in the avocado oil, celery, carrots, sea salt, and garlic, if you're using that. I love a garlicky taste, but I know some people just don't care for it.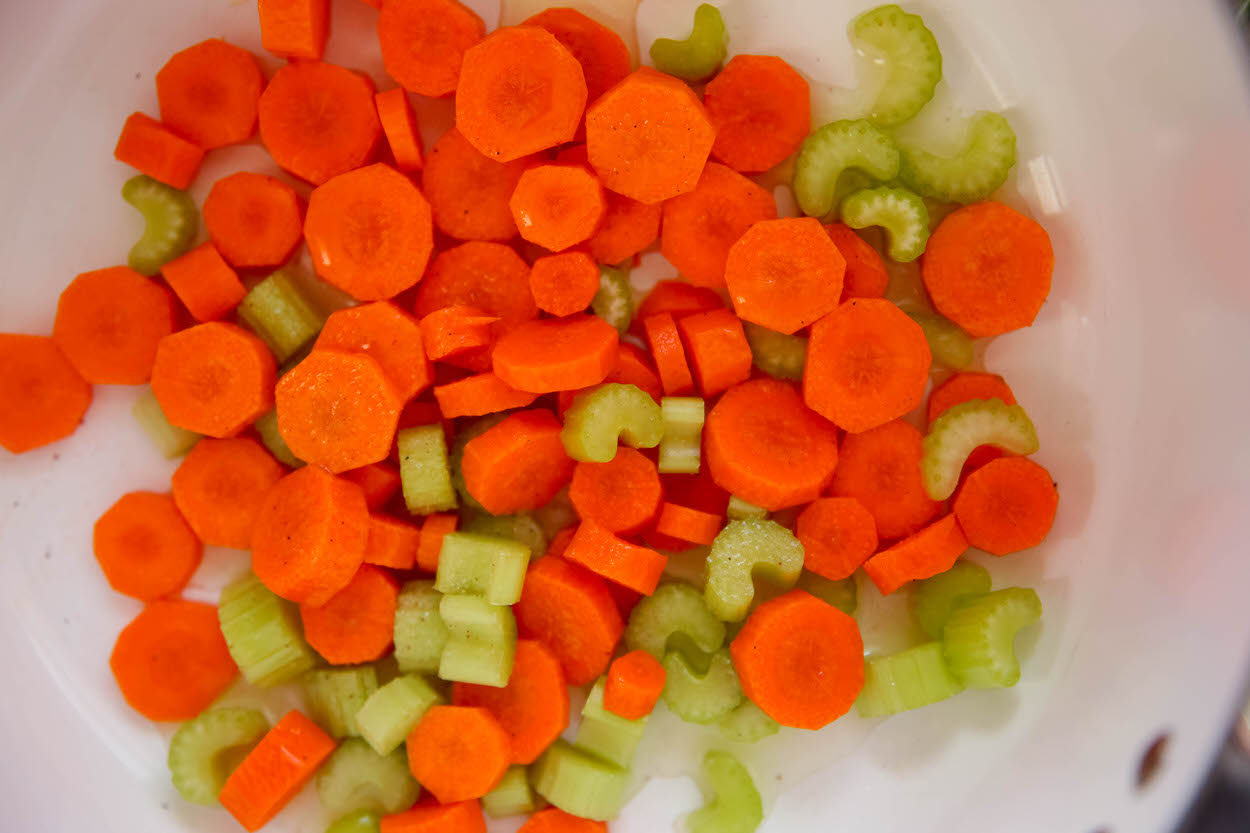 Let that combination saute for about 5-7 minutes so that the veggies start to soften up.
Next, you'll add in the the sage, oregano, rosemary, and chicken.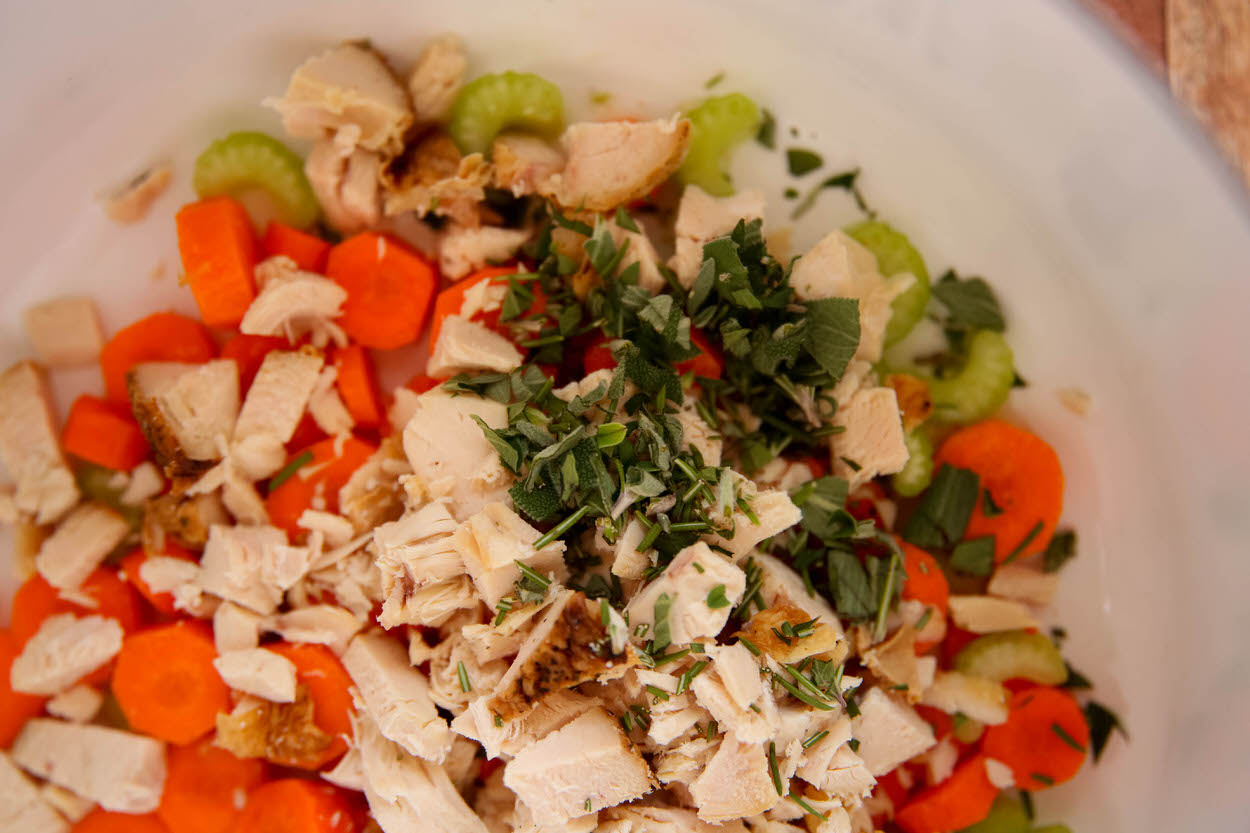 Now the soup is really starting to come together. Your kitchen should be nice and fragrant, thanks to those herbs (and the garlic, if you've added that!).
At this point, you'll want to carefully pour in your bone broth. Toss in the noodles and parsley after that, stirring it all to combine.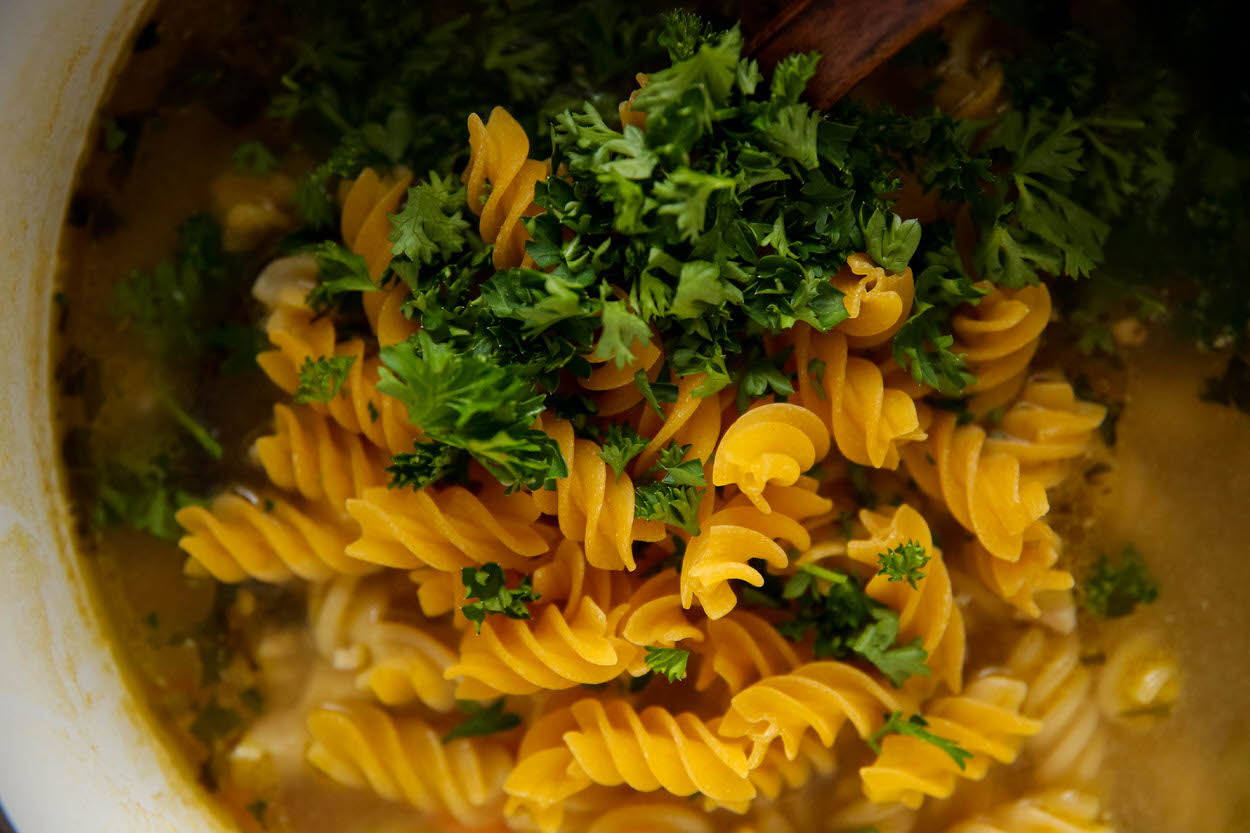 The final step is allowing the noodles you've added to cook through. In total, you'll want to let it boil for as long as the package directions on the noodles say, so that they get cooked through.
The noodles I chose took about 15 minutes to fully cook through, since bringing the whole contents of the stockpot to boil can take some time.
Be sure to let it cool for a bit before serving, or ladle into bowls and let it cool that way. Your finished product should look something like this: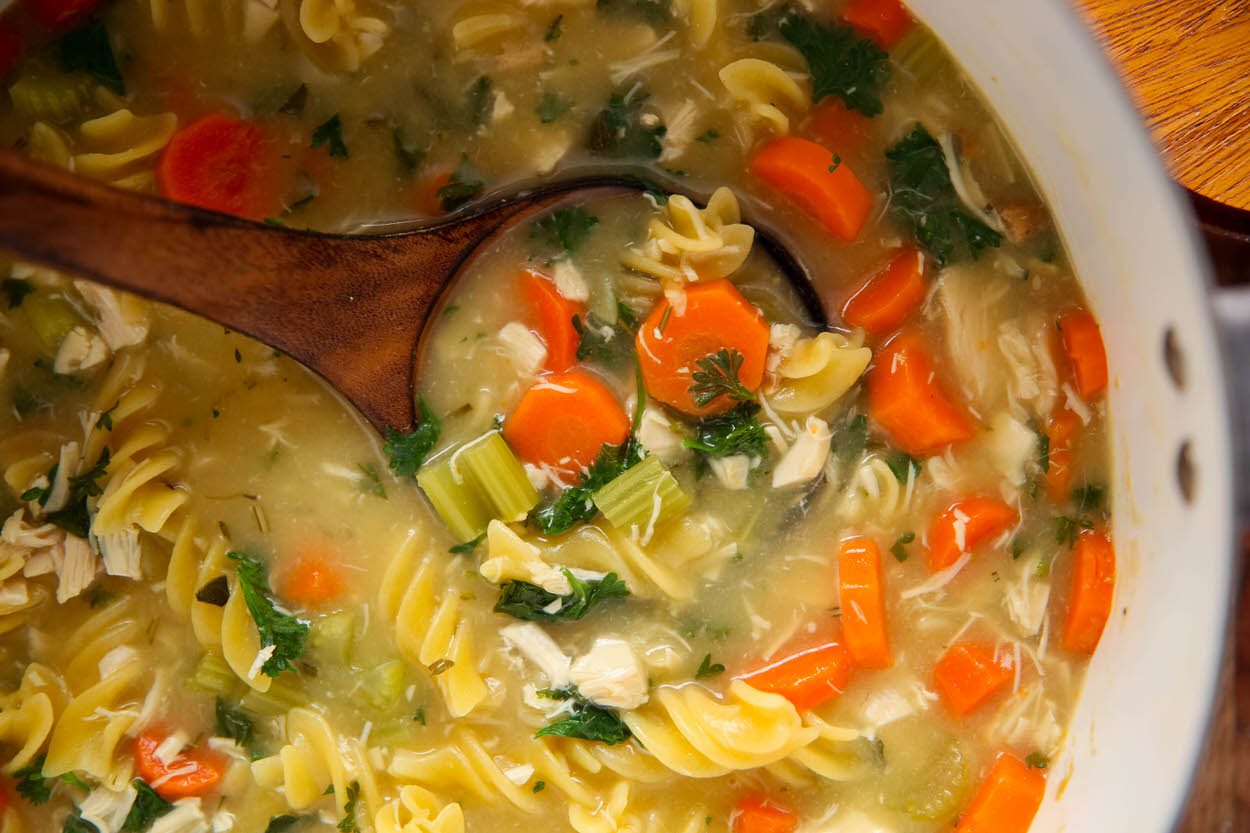 Not bad, right?
I think it's one of those recipes that the entire family, including kids or grandkids, would go nuts for!
I'll get to some common questions you might have about this recipe.
Is chicken noodle soup healthy?
The more traditional forms of chicken noodle soup involve some ingredients I try to stay away from, and I recommend people who are having symptoms of ill health stay away from, too.
The biggest issue I have with soup is that most people tend to buy theirs in a can. This soup has sat in a metal container for months, or even years. That cannot be good for our bodies.
Even freshly-made chicken noodle soups contain, at the very least, noodles that are made with conventional flour. I do not recommend eating conventional flour, which is why my recipe contains cassava flour.
What is cassava pasta?
Cassava is a member of the tuber family, just like a potato or sweet potato. It's nice and starchy and has a nutty taste, which makes it the perfect ingredient to make pasta. Cassava pasta is AIP compliant, so you won't have to worry about this pasta setting you back on your health journey.
What is the difference between bone broth and chicken broth?
If you've looked at any of my recipes before, you know that I am a big fan of bone broth. You can't compare your typical soup broth to bone broth. Bone broth is full of collagen and minerals. It's extremely gut healing and can even be a replacement for your morning coffee (yes, tons of my clients love to have a mug of bone broth in the morning!). I think everyone should drink at least a cup of bone broth a day. Regular broth is much thinner and less flavorful, in addition to having a less robust nutrient profile.
Could you use it anyway? If that's what you have on hand, absolutely.
Is this an anti-inflammatory soup?
This chicken soup recipe is totally AIP compliant, which refers to the autoimmune protocol style of eating. AIP cuts out ingredients that are known to be inflammatory, such as processed sugar, nightshades, and grains, amongst others. You can definitely think of this soup as anti-inflammatory, because the ingredients it contains will not fan the fires of inflammation that are occurring in most Americans.
Interested in most anti-inflammatory soup recipes?
I've published a few. Just click on any below to be taken to those recipes!
Here's the full recipe: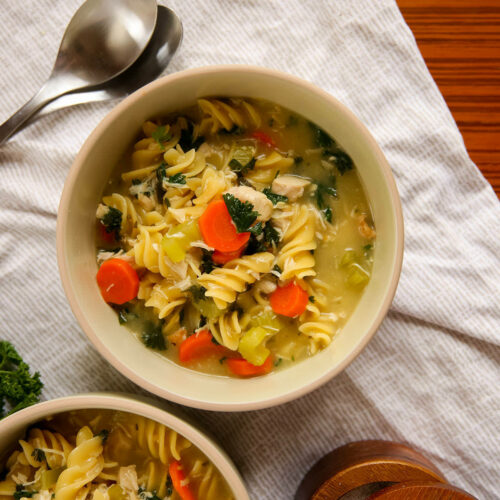 AIP Chicken Soup
The ultimate in comfort food - but free from inflammatory ingredients!
2

tsp

avocado oil

4

carrots, peeled and sliced

3

celery stalks, washed and sliced

2

tsp

sea salt

5

cloves

garlic, finely chopped (optional)

1

tbsp

freshly chopped sage

1

tbsp

freshly chopped oregano

1

tbsp

freshly chopped rosemary

3

cups

cooked and shredded chicken

8

cups

chicken bone broth

1

box

AIP cassava noodles

1

cup

freshly chopped parsley
In a large stockpot over medium heat, add the first five ingredients, and saute for 5-7 minutes.

Next add the sage, oregano, rosemary, and chicken.

Add in the broth, noodles, and parsley  and stir to combine.

Bring the soup to a boil, then reduce to a simmer for 15 minutes, or until the noodles are cooked through.

Let the soup rest for five minutes before serving.